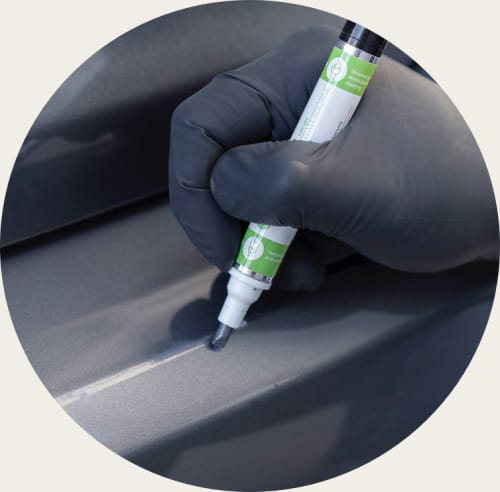 Free Shipping On All Orders

Color Match Guarantee
Automotive Touch Up Paint for Cars, Trucks, SUVs and Vans.
Applying vehicle touch up paint to your car, truck, van, SUV, or motorcycle is easier than you may realize. In many cases, you can complete an automotive touch up paint job in your home garage in one afternoon. With the right paint and the right tools you can fix scratches and scrapes, adding new color and clearcoat that flawlessly blend in.
Whether you're a hobbyist working on restoration or just looking to make your car look new for a fraction of the cost of a professional paint job, don't be afraid to apply auto body touch up paint yourself. With a quality matching paint, you can recreate the flawless finish your car had when it first left the factory assembly line. A DIY job can give you a sense of extra pride in how your car looks and by fixing the paint, you'll protect your car from weather conditions and reduce the risk of damage from rust.
Get started with professionally formulated automotive touch up paint for cars that is eco-friendly and guaranteed to match from TouchUpDirect. In order to fit paint jobs both big and small, TouchUpDirect offers auto touch up paint in paint
pen
,
brush
and
aerosol
forms.
Browse Popular Automotive Makes & Models
We'll help you find the right touch up color to match your car, truck or van.
How Do I Touch Up Paint My Car?
The first step to touch up painting is to find out the color of the paint on your car. For the best results and a guaranteed color match, first find the color paint code. The code is located in several places - on purchase documentation as well as in the driver's side door jamb and/or under the hood.
Once you have the paint code for your car, truck, van, SUV, or motorcycle, you can get paint that exactly matches your car by using our paint finder. Simply select your vehicle's brand, model and year from our paint finder and you'll be guided to a page with all available paint codes/colors.
What Touch Up Paint Accessories Do I Need?
In addition to having an exact match for automotive paint, the key to a professional paint job is having the proper
paint accessories
. Get filler, sandpaper, and primer as necessary prepare the surface for the color paint. Make sure there's no wax or oil on the surface before painting by using a wax and grease removing wipe. With the proper accessories and a perfectly-matching touch up paint, you can restore your car to a shiny, like-new finish.
Our Popular Touch Up Products & Kits
Pen Essential Kit
Includes:
Brush Platinum Kit
Includes:
Brush color
Brush Clearcoat
Brush primer

Needed for bare metal or plastic

Wax & grease remover wipe

Cleans surface thoroughly

Assorted sand paper pack

Sand scratches before painting

Polishing compound

Polish to high gloss
Combo Preferred Kit
Includes:
Combo color
Combo Clearcoat
Combo Primer

Needed for bare metal or plastic

Wax & grease remover wipe

Cleans surface thoroughly
Aerosol Essential Kit
Includes:
Aerosol color
Aerosol Clearcoat
Our Most Popular Automotive Touch Up Paint Colors