Tesla Model X
The Model X is an all-electric crossover SUV with design features that changed the way people look at their cars. Rear falcon wing doors and a panoramic windshield make this Tesla stand out from the pack. The Model X also stands out in on the racetrack – it set the world record for fastest quarter mile for an SUV. Beneath the looks and speed, it is a highly efficient electric vehicle with over 100 mpg projected efficiency. Maintain your multifunctional Model X with the exact right touchup paint by using paints from TouchUpDirect.

TouchUpDirect has touch up paint for Tesla Model X colors including:

• Catalina White
• Deep Blue Metallic
• Eclipse Black
• Midnight Silver
• Midnight Silver Metallic
• Obsidian Black Metallic
• Onyx Black
• Red Multi-Coat
• Shasta White Pearl Tricoat
• Sonic Silver
• Starlight Silver Metallic
• Titanium Metallic

We have Tesla paint colors for both your SUV's body, trim and wheels. Body colors have a four-digit code. Trim colors have a seven-digit code. Find your Tesla paint codes by looking at the driver's side doorjamb at lower left corner of the vehicle identification sticker after the abbreviation "PNT:"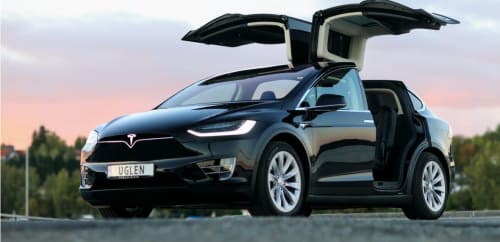 Tesla Model X Touch Up Paint
Free Shipping On All Orders

Color Match Guarantee
Shipped Within 1-2 Business Days

Color Match. Guaranteed.

Amazing Customer Support
We've got Tesla Model X touch up paint to help you fix the paint scratches on your vehicle. Shasta White Pearl Tricoat - color code: PPSW, Deep Blue Metallic - color code: PPSB, Midnight Silver Metallic - color code: PMNG are just some of the common paint color codes that we offer in jars, pens, spray cans and more. Get your Tesla Model X looking its best by picking one of the touch up paint color options above.