Nissan Touch Up Paint
Welcome to the web's premier place to buy genuine Nissan touch up paint for your Nissan car, SUV, van, or truck. From the sleek Armada to the rugged XTERRA, TouchUpDirect has paint colors for all the most popular Nissan models. We have brush, aerosol spray, pen, and bulk paint products, so get the one that will suit your needs. Whether you have a small chip on your LEAF or a bumper scratch on your TITAN, TouchUpDirect has all the application tools and Nissan OEM touch up paint you'll need to give your vehicle a paint job that looks good as new. If you're looking for an all-in-one product to help you repair your Nissan's paint job, check out our Platinum Kit. It has everything you'll need to make your car's coat shine including primer, clearcoat, sandpaper, and polishing compound.
All colors guaranteed to match
All of our colors come right out of the manufacturer's books. Under our Color Match Guarantee, we make sure that the color provided to you is a match for the one on your vehicle. Learn More →
Protect Your Purchase With TUDCare
TUDCare is TouchUpDirect's 12 month, one-time, same color replacement warranty. TUDCare comes free with the purchase of any of our Platinum Kits. If you lose your applicator for any reason, we will send you an entire replacement kit for free. That way, if your dog steals your applicator for his hoard, you'll be covered. Learn More →
What tools do I need for a Nissan touch up paint job?
To create the best looking coat for your vehicle, we recommend the following:
PRIMER, COLOR, AND CLEARCOAT - It goes without saying that you need paint to do a touch up paint job. Clearcoat provides a thin protective layer for your paint job while Primer is required for damage that has reached the original base material.
WAX AND GREASE REMOVER CLOTH - The wax and grease remover cloth is used to remove wax, grease, and contaminants before painting.
SANDPAPER - Wet-sanding the affected area removes rust and prepares the surface with a rough finish so the paint can stick better.
POLISHING COMPOUND - The polishing compound smooths everything out with a factory-grade finish.
These tools are all available with our Platinum kit but can be purchased separately on the TouchUpDirect website.
How to apply Nissan touch up paint?
Looking for help with painting your Nissan ? We have an entire library of instructions and how-to videos designed to walk you through the process.
How to find your Nissan Paint Code?
How to find your Nissan Paint Code?
To make sure you have an exact color match, the simplest option is to have your Nissan paint color code ready. The paint code stickers can be found in different locations, but they all contain three digits. Whether they are letters, numbers or a combination of the two. On the bottom left corner of the sticker, you will find "Color/Color Trim" and your code will be right underneath. The color code is typically located on the driver side door jamb, on the door pillar or even on the hinge area of the door. If you did not find your code there, it may be located on the firewall - on the center or on the passenger side or on the engine compartment and possibly on the radiator support. Nissan Paint Code Examples: K36, RAQ, QAB
Our Most Popular Nissan Touch Up Paint Colors
Free Shipping

Color Match. Guaranteed.

Amazing Customer Support
How It Works
What is
going on?
We get it. It's not always ideal to be shopping for touch up paint. But we're here to help make the process easy, from ordering to application.
Color Match
Guarantee
With our Color Match Guarantee you can be confident that when you have your color, it will match your car.
We guarantee it.
Products
That Work
You need the product to get the job done right and we've got it.
Delivered to
Your Door Quickly
Our order process is quick and our shipping fast. Sit back and know that in no time you'll have your pride and joy looking great again!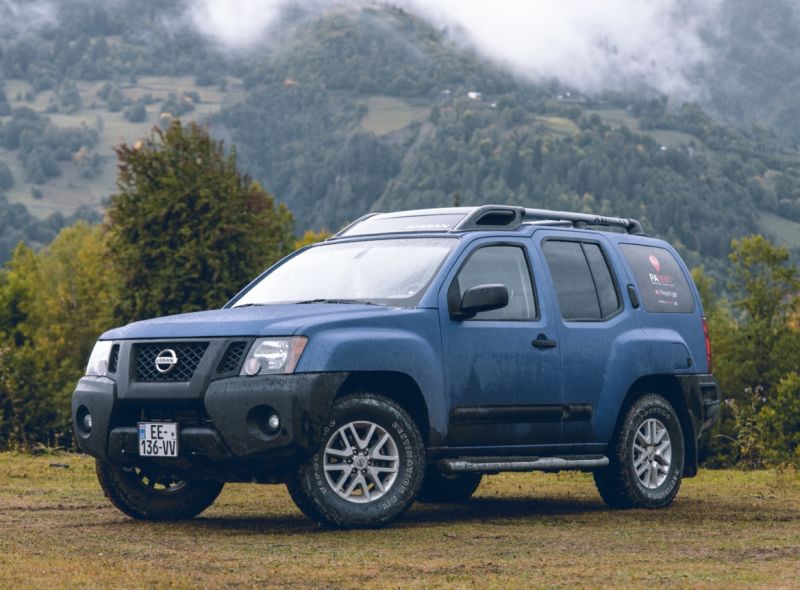 Nissan Story
The Nissan Motor Corporation went through many changes before it became what it is today, one of the top 5 largest car manufacturers in Japan. Operating under the name Datsun in its early years, the Nissan brand was introduced in the mid 1930s. Their primary market were little pickups and trucks for the simple reason that the use of passenger cars was not widespread in Japan at the time. This all changed when they proposed the little DAT car and Datsun car. From this point on, Nissan made big progress, the Datsun type 15 even became the first mass-produced vehicle in Japan. The company started exporting cars and trucks in Australia but it was only a stepping stone to their entry in the American market. Their early success in the U.S. market was supported by the use of the latest technological advancement and their design inspired by the Italian style. Similar to other Japanese manufacturers, Nissan was also favored in America during the oil crisis for their smaller high-quality economic models. In 1999 Nissan entered an alliance with French car maker Renault, the joint venture is now known under the name Renault-Nissan B.V. This alliance proved very efficient for the brand and it completely revived its sales around the globe. Nissan effectively maintained their technological predispositions and as such, the company has become a pioneer of the electric and low-emission car market. The Nissan Leaf and its truck counterpart the Nissan e-NV200 are the figureheads of Nissan's electric car line. What would be better to sustain your Nissan's body paint than TouchUpDirect's line of eco-friendly and color exact match touch up paint? With its low VOC and the no waste product line, TouchUpDirect is really the best touch up paint you can use on your Nissan.