Ford Fusion
Following in the footsteps of the Toyota Prius, the Ford Fusion helped propel the rapid boom in popularity of hybrid cars in the early 2000's. For years, the Prius outsold all other hybrids by a margin of 2:1, but eventually the Fusion caught up, even occasionally surpassing the Prius in month-to-month sales.

Compared to the compact Prius, the Fusion trades off a bit of fuel economy for a heavier, more comfortable car with better handling and a classic midsize sedan body design.

In many ways, the best car to compare with the Fusion isn't the Prius, but instead the car it replaced in Ford's lineup, the Taurus. In early Fusion models with a non-hybrid gas engine, it had the same engine as the Taurus - the Duratec 30. In 2006, the Fusion replaced the Ford Taurus as the body model for Ford NASCAR cup series cars. The Taurus was famous for being aerodynamic and was used to set a stock car land speed record. The Fusion set a land speed record of its own as the fastest hydrogen powered car.

Part of the broad appeal of the Fusion lies in its many options. In addition to the classic v6 Ford engine, the Ford Fusion innovated by offering an EcoBoosted lower displacement turbo engine and a hybrid engine. It was the first Ford car to simultaneously feature a regular v6, an EcoBoosted engine, an hybrid engine and a plug-in hybrid engine. In addition to powertrains, the Ford Fusion offered flexibility with an optional all-wheel drive.

Despite the popularity of the Fusion, shifting customer interest away from cars and into trucks and crossover SUVs led it to being discontinued in 2020. However, the Fusion's popularity led Ford to redesign it to meet customer demands as a crossover SUV - the Fusion Active.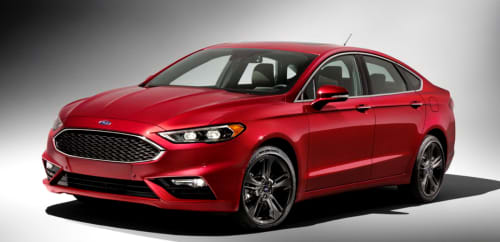 Ford Fusion Touch Up Paint
Free Shipping On All Orders

Color Match Guarantee
Shipped Within 1-2 Business Days

Color Match. Guaranteed.

Amazing Customer Support
We've got Ford Fusion touch up paint to help you repair the paint scratches on your vehicle. Magnetic Metallic - color code: J7, Oxford White - color code: YZ/Z1, Ingot Silver Metallic - color code: UX are just some of the common paint color codes that we offer in jars, pens, spray cans and more. Get your Ford Fusion looking its best by selecting one of the touch up paint color options above.