What Is the Jeep Wave? Everything You Need To Know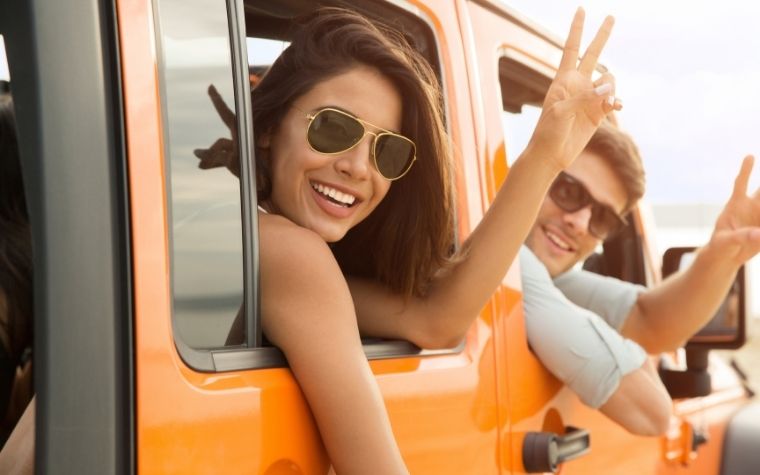 One of the best things about owning a Jeep is how supportive, robust, and easy to drive each model is. This family-friendly vehicle can go just about anywhere, from open roads to the rough terrain of the forest. But one of the greatest benefits that comes with owning a Jeep is the community of enthusiasts and experts. You'll meet people who love Jeeps just as much as you do and who can provide plenty of advice when you need it.
Have you ever been driving on the road and passed another Jeep driver? They may do something called "the Jeep wave." Here's what to know about the Jeep wave, where it came from, and how it became a full-fledged program.
What Is the Jeep Wave?
When you own a Jeep, you become ensconced in an entirely new culture of Jeep appreciation. So it's useful to know about the Jeep wave. This simple waving gesture is a social exchange in which almost every Jeep owner partakes.
As you drive on the road, you may pass another Jeep. If that driver waves at you, you'd naturally wave back in their direction. This "Jeep wave" is a great way to feel included in a culture you didn't even have to sign up for.
Where Did the Jeep Wave Come From?
The Jeep wave comes from many potential sources. One story stems back to World War II, when soldiers commonly drove Jeeps on the front lines. The Jeeps transported supplies, wounded soldiers, and sensitive mail to safe locations. It's assumed that the wave began as a way to differentiate enemies and allies or to greet other fellow soldiers.
Another story about the Jeep wave comes from after World War II, when soldiers began to return home. The wave had become so common among members of the Armed Forces that many veterans wanted to continue the tradition. When one Jeep passed another, the drivers usually had a high chance of being veterans, so the wave became a sign of recognition and respect to one another.
There are many theories about where the Jeep wave came from, but the common consensus is that the wave itself is an act of solidarity and acknowledgment of other drivers.
Different Jeep Wave Styles
The Jeep Wave isn't just a simple hello. There are many kinds of Jeep waves you may recognize when you're on the road. Depending on your preference, you can choose from a couple of different waves. One expected wave is using two fingers extended up from the steering wheel, creating a peace sign. It's one of the most recognizable waves to exchange respect. Another similar kind of Jeep wave is extending all the fingers off the steering wheel while keeping your palm on the steering wheel.
Lastly, there are two other wave styles: extending your hand out the window and giving the "hang loose" hand symbol—your pinky and thumb stretched out with your other three fingers curled into the palm—or simply giving your hand a little shake.
The Jeep Wave Program
The Jeep wave has become so popular among Jeep drivers that the Jeep company created a program for its dedicated customers. It's a premium owner loyalty program that offers high coverage for Jeep owners. In addition, it comes with a catalog of benefits and perks, providing the best care possible and providing 24/7 customer support.
The Jeep company has expanded its care program to all 2021 Jeep brand vehicles while recently extending their memberships from 24 months to 36 months. These models include the Jeep Wrangler, Grand Cherokee, Cherokee, Compass, Renegade, and Gladiator.
Jeep Wave Program Benefits
The Jeep Wave Program doesn't let the owner down when it comes to benefits. It's hard to ignore the benefits of this quick, easy, reassuring program.
Vehicle Protection
Whether you sign up for the Jeep Wave Program or receive it with a new Jeep vehicle, you'll become part of the Mopar Vehicle Protection plan, abbreviated to MVP. It offers extended coverage perks that range from genuine and factory-supported maintenance services and rental vehicle allowances to trip interruption protection. It's great to help you out of tricky situations without stressing you out, providing excellent service to assist you with any predicament you might come across, such as damages or failures.
No Additional Maintenance Costs
Because a vehicle is an investment, the Jeep Wave Program offers free maintenance that's worry free and economical. It's a great way to keep up with regular care and attention so that your Jeep can stay in top-performing condition—without breaking the bank. You can receive complimentary oil changes and tire rotations for your recently purchased Jeep through a 3-year Jeep Wave membership. Lastly, you'll get a free first-day vehicle rental allowance for Jeep repair and services. So if you have a flat tire, a cracked windshield, or anything that can worsen over time, the Jeep Wave Program has got you covered.
24/7 Customer Support
Who knew that a simple gesture could result in a program that significantly supports Jeep customers? One of the best parts of the Jeep Wave Program is that it comes with 24/7 customer support for any question or situation. If you have any questions regarding your Jeep model or services, you can quickly contact the company through a phone call. Otherwise, you can send a message via email or by using the online Live Chat feature on your account page whenever you need it.
Driving a Jeep comes with a sense of pride and honor from years long past. It's a great way to become part of a community, travel in style and safety, and enjoy a comfortable ride for years to come. However, having good upkeep for your Jeep is also essential. That's why we at TouchUpDirect offer an extensive catalog of Jeep touchup paint kits for any make and model. Just provide the paint codes for your Jeep Wrangler or other Jeep model in our online database, and we'll help you find the right OEM paint kit for your car. If you have any questions or concerns, please get in touch with us today.