Using Automotive Touch Up Paint for Restoration | TouchUpDirect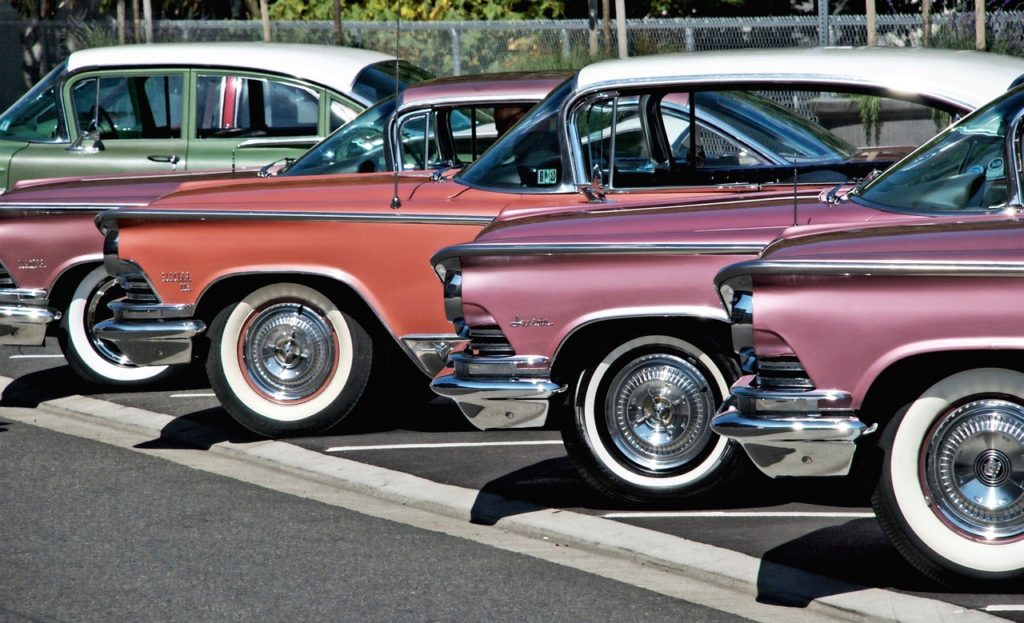 Can you use touch up paint on your classic car?
Using touch up paint in your home garage to restore your everyday driving car is an easy way to save money while making your car look great, but what if you have a collectible car you want to show off like a fastback '67 Ford Mustang or a '99 Honda Civic? Should you do the touch up paint job yourself?
Most small paint issues for collectible and classic cars are repairable in a home garage, but there are cases that demand a higher level of restoration. If you just want it to look good for you and your friends, you will be able to get the professional-looking results you want in a home touch up job. If you want it to look flawless for the judges at car shows, you may need to take it to a paint shop.
Understanding what repairs can be a DIY project and when it's time to call in a professional will vary based on your skill level, but generally most users can restore their classic collectible car to street show condition. Car restorations are graded on a 100 point scale broken into six levels.
The levels of custom car restoration
Unrestorable/Parts Car condition – 0-29 points – Unrestorable cars have multiple problems that make them unusable, but they may have some salvageable parts for other projects.

Restorable condition – 30-49 points – Restorable cars require a highly variable amount of work. Cars in the 30-39 range may require multiple major repairs to engines, chassis, body, and/or interior. Cars in the 40-49 have fewer of these required repairs and are less expensive to restore.
Driving condition – 50 to 79 points – Driving condition cars may have a wide range of cosmetic flaws but they all run well and are functional on the road.
Street Show condition – 80-89 points – Street Show condition cars have very good condition on the exterior but may need work on the interior.
Show condition – 90-95 points – Show condition cars are restored to a very good condition on the exterior and interior.
Concours condition – 96-100 points – Concours cars are virtually flawless, restored to like-new condition and are rarely, if ever driven.
Concours condition is pretty much impossible to reach in a home garage, unless you happen to live in an autobody shop. Without exception, in order to do a concours restoration, you will have to remove the body from the frame and put it onto a rotisserie to work on it. It can easily involve a team of several professionals and thousands of hours of labor.
Financial concerns about restoring classic cars
Restoring a car to Show condition or better can take tens to hundreds of thousands of dollars. Many people who get involved with restoration jobs aim too high and end up with an unfinished project because they run out of money to spend on it. Avoid getting caught with a car you can't even drive by setting realistic goals and sticking to them.
Show condition might be reachable in a home garage by a dedicated enthusiast, but generally first time or amateur car restoration hobbyists will get the best results if they start by setting their sights on restoring a car to Driving or Street Show condition.
Start restoring a car on a budget with a touch up paint job
After fixing up a car to working condition, you can elevate it further yourself to Street Show condition by fixing exterior appearance, including the paint job. It's relatively easy to use rattle cans to paint replacement components like bumpers, side skirts and spoilers with a perfect color match before you install them. Using touch up paint in your home garage, you should be able to fix dings, scrapes and scratches in the paint up to a quarter in size even if the scrape goes down to the bare metal.
Signs you may need professional help in your restoration project
When looking to repair a Driving condition car to Show condition, it is possible that some projects may take more work than can easily be accomplished in a home garage. Look for these possible pitfalls before getting heavily involved with a project.
Extensive rust holes in your car's body
Peeling clear coat paint over large portions of the car
Sun-faded paint over large portions of the car
Home DIY auto paint touch up jobs can go a long way in repairing a scraped up exterior, but there are limits to how much you can do. If the job involves multiple panels and/or significant rusting, it may be time to take it to a professional.
Must-do steps for a classic car paint touch up
Use primer if needed – Your paint won't adhere properly if you skip primer when you need it.
Sand and clean area to prepare – Paint will not adhere well to an improperly sanded area.
Properly mask area – Prevent stray particles of paint from getting on other parts of the car.
Use wax and grease remover – The presence of oils on the surface can disrupt the paint.
Use a tack cloth – Wipe painting area before application for the smoothest coat.
Paint in thin, multiple layers – Too thick of an application can result in streaks.
Polish to finish – Use a buffing compound to make it shine.
Get started with your own auto touch up paint application
Get started restoring your car and elevating how your car looks on the outside and you'll soon be ready to show it off in classic car shows or for your friends.
For more instructions on the painting process, check out our touch up paint videos.
To find touch up paint that's guaranteed to match, get started by looking up your touch up paint color based on your car's paint code. For more help on finding paint codes, check out our guide for finding paint codes for BMW cars.