How To Find Your BMW paint code
Get your paint code and you can do your own perfect touch up paint job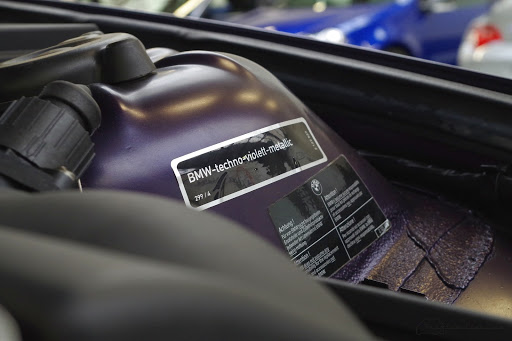 Oh no! Your new BMW has a scratch in its paint!
Before you go running off to spend hundreds on a BMW touch up paint job, consider doing it yourself. It's easy to find the exact right shade of paint if you find the paint code.
The first step to doing a touch up paint job on your BMW is to find out what the BMW paint code is for your car. BMW paint codes are typically three digit codes though there are a few four and five digit exceptions. BMW vehicles typically have a dedicated paint code sticker on them that has the paint information on it and sometimes the name in English and/or German as well.
How to find BMW paint code
Look for your BMW paint code sticker under the hood of your car or in the driver's door jam. The most likely spots are:
On the drivers side under the hood
By the strut towers
On the fenders edge
On the vehicle identification number (VIN) sticker in the driver door jam
Examples of BMW Paint colors and names:
| | |
| --- | --- |
| Paint Code | Name of paint color in English/German |
| 146 | ALPINE WHITE/ALPINWEISS |
| 86 | BLACK/SCHWARTZ |
| B39 | MINERAL GREY METALLIC/MINERALGRAU METALLIC |
| 274 | MUGELLO RED/MUGELLOROT |
| A83 | GLACIER SILVER/GLACIERSILBER |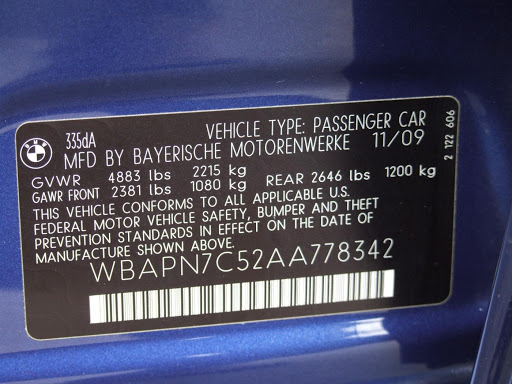 How to find your BMW paint code using the VIN
If you are unable to find your paint color code sticker, you can still determine the paint code if you have your BMW's VIN number. The VIN number is a 17 digit code found in a variety of locations on your car and in the official paperwork for your car.
You can find the VIN number by looking:
On the driver's side door jam or door
On the front of the dashboard on the driver's side, visible through the windshield
Under the hood on the engine block
On insurance or registrations documents
Once you have the VIN number, contact your local BMW dealer and they will be able to look up your car and tell you what the paint code is.
Getting the right paint code number is the first step to getting a perfect BMW touch up paint. If you've purchased your BMW used, it is of course possible that it is no longer painted the original color. If it looks like the paint code doesn't match the color of the car, you may have to contact the former owners to determine the color of the paint or seek the help of an expert with a spectrometer to determine the color.
Even if you're sure you have the right code for your touch up paint, it's always a good idea to double check by painting a test strip and comparing to the color of your actual car before going ahead with painting your car.
Warning: pay attention to your BMW's gloss or matte finish
All color paints require being finished with a protective layer of clear coat. For the vast majority of BMW cars this is a high gloss clear coat, there are a couple of notable exceptions. Paint code 121 BLACK MATTE/MATTSCHWARTZ and paint code U83 FROZEN GRAY METALLIC both have a matte finish and require a special matte-finish clear coat. Make sure you choose the right kind of clear coat for your BMW. If you accidently put a high gloss clear coat on your matte finish touch up paint job, it will stand out like a shiny and sore thumb!