Soccer Mom to Street-Racing Phenom?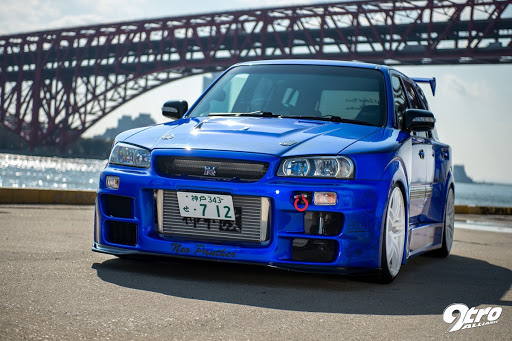 Customizing the Honda CR-V for performance and style
Imagine pulling up to a red light alongside a Mustang in a high-riding Honda CR-V. The light changes, you slam on the pedal and you leave the muscle car in your compact SUV dust.
It's unlikely that this would actually happen, but since the CR-V shares a pedigree with the most popular tuning car of the 21st century (the Honda Civic) and is currently Honda's top selling car, it's worth considering tuning the CR-V for performance in case you ever get the opportunity to go head-to-head in a race.
Tuning a CR-V presents a few hurdles. After all, C-RV doesn't stand for "certified race vehicle"; according to Honda, it means "comfortable runabout vehicle". The first generation CR-V came with a fold out picnic table in its trunk (remove that extra weight to gain speed!), but it also came with a double wishbone suspension that improves handling and made the Civic so popular among tuners.
Another bonus of choosing to work on a CR-V is that it has now overtaken the Accord as Honda's top-selling car and it's not hard to find an inexpensive CR-V to customize. You might not win any street races, but you will certainly turn heads as you take a very conventional car and turn it into something special.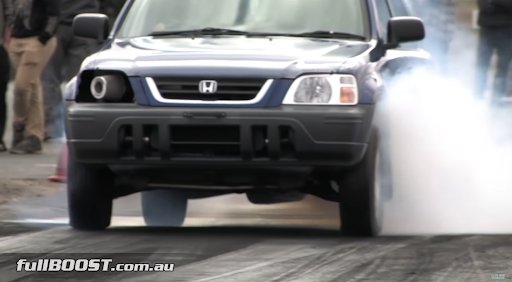 Adding Power – From Engine Swapping to Air Intake
The greatest possible increase of power comes from an engine swap.
If doing an engine swap, choose a powerful Honda-made option that will fit the chassis such as a Civic R type engine or Integra GS-R. Keep in mind engine swaps are expensive (easily more than $10k) because of the need to add a new transmission, custom mounts, plumbing, exhaust and wiring. Since CR-V engine swaps are less common, it will typically cost more and you'll have fewer resources to help you with advice. Taking a step back from engine swapping, adding a turbo is an effective and generally less costly means of adding power, just keep in mind, many of the most recent CR-V come already with a turbo-charged engine.
If you're trying to boost the power of your CR-V on limited funds, you're best off doing smaller, incremental additions to adjust power and handling that will be just enough to shock people with an unexpected bit of power. Lower cost options include using a tuning chip, adding a better intake, exhaust, new distributor, replacing the cam gears and adjusting the timing.
When changing the air intake, a sport panel air filter should be sufficient at providing the optimal amount of boost. An induction kit only really provides a big boost for engines that either have a turbo or are larger– C-RV engines range from 1.5 to 2.0 liters of displacement.
Expand the width of your exhaust to increase cooling. For best results, replace all parts of the exhaust system with wider parts including header, cat, and muffler, not just the last little bit of the tailpipe. Don't go for a max size increase because it will slow the rate of exhaust. The optimal change is a 1.5 to 2.5 inch increase.
Improving handling
Performance is more than power; improving handling also matters. Boost the handling of your CR-V by adding suspension and wheel upgrades.
Are you drag racing or driving on a race track with turns? Make sure you choose the right size of wheels for how you intend to use your CR-V. Smaller 14-15" wheels are lighter and better for acceleration. Larger wheels are heavier but will give you a bigger contact patch with the road and can provide better handling through turns. Alloy wheels will reduce weight while enabling more cooling of disc brakes.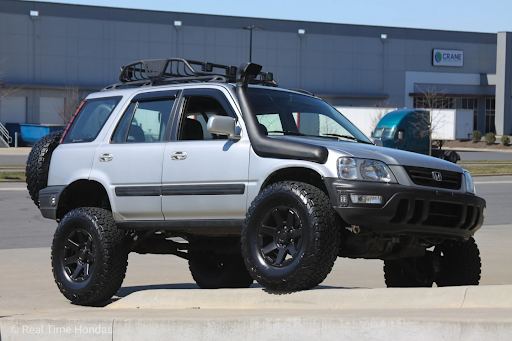 Suspension
When the CR-V was first released in 1997, it had higher clearance than any other compact SUV and was even higher than full size SUVs like the Chevy Tahoe and Ford Explorer. Lowing the center of gravity makes it easier to turn. To optimize for handling, lower the suspension by at least 25mm-37mm. You could, of course, do the opposite and lift your CR-V to make it ready for off-roading.
Additional Upgrades
The CR-V can enable all sorts of outdoor activities with the addition of a roof rack or a trailer hitch to carry kayaks or bikes.
Don't forget cosmetic upgrades! Looking fast is as important as actually going fast. Vintage Honda lights can get a bit dull with age. Replace the headlights and rear lights, or, if you're turning it into a track car, turn your headlight space into an air intake. Spruce up your interior with wood paneling. When adding new auto body part kits, make sure to get the color to match guaranteed by getting Honda touch up paint from TouchUpDirect.
A custom CR-V won't necessarily win a bunch of road races, it may turn heads. And due to the ever-growing popularity of crossovers, it's only a matter of time before there's a crossover SUV race? Be prepared by powering up your CR-V.