Different Types of Scratches & How To Fix Them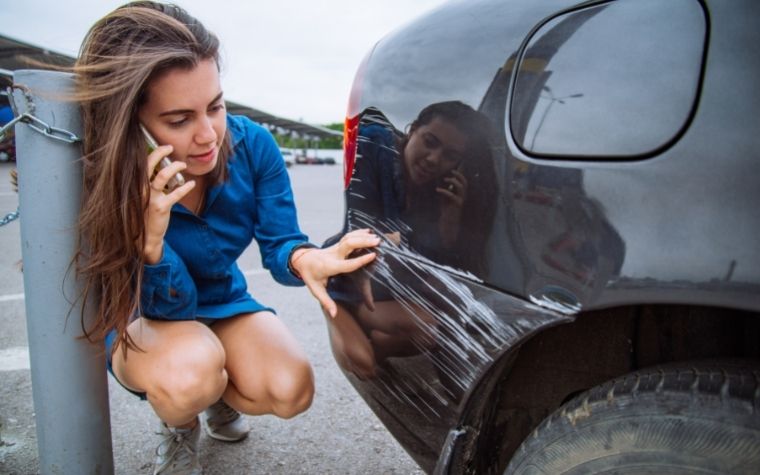 Only a few rare moments compare to the frustration a car owner feels when their car gets scratched. Whether you are in your vehicle and hear the screech yourself, or you leave it unattended only to come back and find damage, a car scratch can ruin the aesthetic of your beloved car. No matter how deep the scratch is, you will want to repair it. Fixing it will keep your vehicle looking showroom ready. However, if you understand the different types of scratches and how to fix them, you know how to restore your vehicle and get it looking as good as the day you bought it.
Clearcoat Scratches
Every car receives a clearcoat over its paint job to protect it from UV light, dust, dirt, and anything else that could damage the paint beneath. A clearcoat scratch is the easiest to fix, as the damage hasn't reached the paint on the car.
However, it is still essential to get it fixed because, if left broken, it leaves the paint exposed to the elements. Therefore, the paint will get damaged over time, and what was a minor fix could grow into a more significant problem. You don't want to pay for a new paint job because you ignored a small scratch.
You can test for surface-level scratches by running a fingernail over the gash. If your nail doesn't slip into the scratch, that means it is a minor clearcoat scratch, but if your nail does get caught in the scrap, you have a bigger scratch than you might care to admit.
You can also tell a clearcoat scratch by using a spray bottle mixed with soap and water. If you spray the scratch with the mix and it completely disappears while wet, it is a clearcoat scratch. Scratches that don't temporarily evaporate are primer or paint scratches.
Fixing Clearcoat Scratches
Clearcoat scratches are the easiest to fix, and there are multiple products available that will buff it out. Even if you aren't familiar with car repair, you can buff out these scratches at home using a clearcoat pen, aerosol spray, or a paint can for professional paint sprayers.
You can apply the clearcoat using various tools depending on the size and location of the scratch. The pen is great for minor scratches that need a more refined touch. The brush works best for slightly larger chips and scratches. Aerosol sprays allow you to paint bumper repairs, mirrors, and other larger panels with ease. Car owners can even repair their hood or trunk lids with a professional finish when using our Aerosols.
Clearcoat also accounts for if your car has a matte or glossy finish, so make sure to find what works best for your situation.
After cleaning the scratch with a wax and grease remover, apply three layers of clearcoat on the blemish with ten minutes between each to dry. After 24 to 48 hours, you can buff and wax the spot like anywhere else on your car.
Paint Scratches
A base paint coat scratch reaches through to the second layer of your paint job. Even though this is the thinnest layer of paint, it gives the car its color. If left unchecked for years, it can begin to rust. The most significant cause for wanting to fix a base paint is the aesthetics of your car. These scratches are very noticeable and will look like a worse scratch than it is.
A paint scratch can lower your resell price when selling your car, so fixing them is always worth it.
Fixing Paint Scratches
Although you might think that you need to go to a professional paint detailer to deal with a paint scratch, it is an easy fix if you know what to do. The most important thing to remember when selecting your paint is matching the color with what is already there. The owner's manual of your car should list your paint color. If you are unsure what type of touch up your model needs, check TouchUp Direct's homepage, where there is a comprehensive guide to factory paints for most makes and models.
You first want to wipe down the affected area with a wax and grease remover. Then apply your paint to the scratch. When painting, keep the paint within the area, and you will want to do three coats for a professional finish. Don't worry if your paint isn't the same color when applying; it will dry to the correct color. Let it dry for 30 minutes. After that, you will need to use a clearcoat on the new paint for protection.
Primer Scratches
The deepest scratch a car can get is cutting through all three levels of the paint, exposing the car's metal, steel, plastic, or fiberglass beneath. The primer is the layer that separates the raw material from the color. It serves the same function as the paint primer on the walls of your house. Primer scratches are the most time-sensitive to repair because rust can form within days of getting the scratch.
Fixing Primer Scratches
Fixing a primer scratch first begins with applying a new primer. You can apply the primer with the same tools used with the lighter scratches. Like other scratches, you should first use a wax and grease remover. Then, apply the primer in the scratch. Make sure you color in the lines! It will need to dry for 30 minutes. Once there is primer back on the car, you will need to repeat the same steps as you would for a paint and clearcoat scratch until the damage is completely covered up.
While you can't always change the pistons in your car on your own, that doesn't mean you can't do some repairs yourself now that you know different types of scratches and how to fix them. TouchUp Direct has everything you need to keep your car looking showroom ready, whether you require Chevy touch up paint, primer paint, clearcoat paint, or any other paint repair accessories.