Who's In Your Car's Family Tree?
Did you know that Audi is a cousin of sorts with Porsche? Or that Jeep, Maserati, and Alfa Romeo all fall under the same aegis? Your own beloved vehicle could even be siblings with race cars zooming through Formula One and NASCAR. Through many acquisitions and deals, your car may have passed through the stewardship of many companies. While there are still many independent automotive companies, many of the world's most famous carmakers have been collected under the same umbrella. As of 2021, here are what some of the world's automotive family trees look like.
Stellantis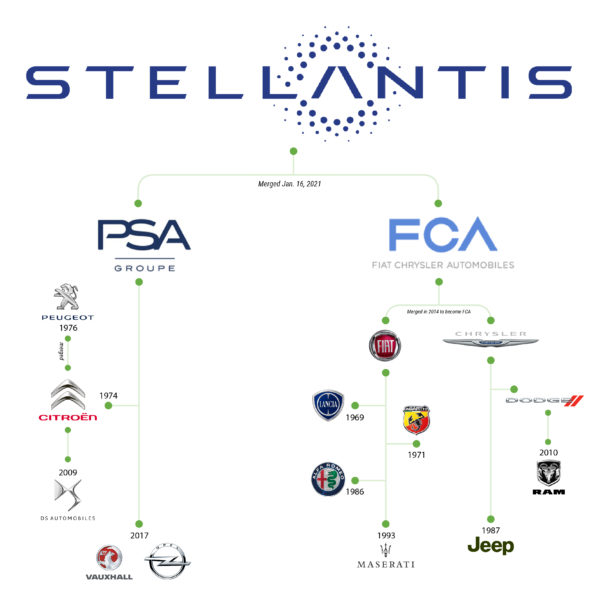 Let's start with the baby of the group, shall we? As of this date, Stellantis is about four months old. Making their home in Amsterdam, Groupe PSA (Peugeot Société Anonyme) and Fiat Chrysler Automobiles made it official on January 16th, 2021. Before it merged into Stellantis, PSA had some gems under its umbrella. It acquired Citroën in 1974, and Citroën founded DS Automotives as a premium brand in 2009. Interestingly enough, Fiat briefly controlled 49% of Citroën in the sixties but sold them just in time to allow the French car company to merge with Peugeot. In 2017, PSA acquired the Opel and Vauxhall brands and their combined 300+ years of experience. And what did Fiat Chrysler bring to the table? Well…Fiat and Chrysler for a start. Designed and built for military use in World War II, Jeep passed through many hands before landing at Chrysler in 1987. Before that, Chrysler bought Dodge in 1928 when the latter company underwent a tumultuous period after both Dodge brothers died in the same year. Ram Trucks was spun off from Dodge in 2010. Fiat acquired Lancia in 1969, Abarth in 1971, Alfa Romeo in 1986, and Maserati in 1993. The latter caused a stir when Maserati's rival, Ferrari (then owned by Fiat), took control of the company's operations for a time. Fiat-Chrysler spun off Ferrari into their own company in 2014 and packaged Maserati and Alfa Romeo together.
Toyota
Toyota, the Japanese company originally built off the success of Sakichi Toyoda's automatic loom invention, was founded in the town of Koromo. The factories built there became so important to the town that in 1959, they changed their name to Toyota. Fittingly, they are sister cities with Detroit, Michigan. Over the years, this powerful car company has acquired and created a few brands. The subsidiary that has been a part of their family the longest is Lexus, created in 1989 as a luxury brand for the company. In 2001, they acquired Hino, famous for their trucks, buses, and other commercial vehicles. Originally founded in Osaka by academics studying internal combustion engines, Daihatsu is technically about 30 years older than their parent company. After a decades long run as an independent company, Daihatsu became a wholly owned subsidiary of Toyota in 2016.
Daimler AG
Chrysler formerly spent 10 years as part of the Daimler family. Once called Daimler-Benz and DaimlerChrysler, the company became Daimler AG in 2007 when Chrysler once again became its own entity. The company has a long history, rooted in the merger between two pioneers of the automotive industry. In 1926, embroiled in Germany's financial crisis, rival companies Benz & Cie. and Daimler-Motoren-Gesellschaft merged to become Daimler-Benz. This company of course includes the current Mercedes-Benz but has little to do with the famous and now defunct Daimler Company, an English company that purchased the rights to the name in the late 1800s with an eye toward selling the German cars in Great Britain. They formed the German brand, Smart, with Swiss company SMH in 1994. Daimler also has a strong hand in commercial vehicles, acquiring Setra and BharatBenz. Their subsidiary Daimler Trucks North America encompasses Detroit Diesel, Freightliner, Western Star Trucks, and Thomas Built Buses under their umbrella as well.
Honda
Originally a small group making motorized bicycles, Honda was founded in 1946 by Soichiro Honda. A few years later in 1949, they designed and built their first motorcycle: The Honda D-Type (nicknamed "The Dream"). They soon became a motorcycle powerhouse in the world, eventually branching out into cars. In 1986, they became the first Japanese automotive company to launch a luxury brand with Acura.
Ford
The Ford Motor Company of Dearborn, Michigan was founded in 1903. They purchased the Lincoln Motor Company in 1922 for $8 million. In 2021 dollars, that would be around $127 million. The purchase helped shore up the fortunes of Ford, whose iconic Model T had been left in the dust by the newer cars being offered by competitors. At one point, Ford owned Jaguar, Land Rover, Aston Martin and Volvo but was forced to sell all four during the 00s.
Tata Motors
And who did Jaguar and Land Rover end up with? Why Tata Motors of course. Originally a company that made locomotives, The Indian company joined with Daimler-Benz to create commercial vehicles. Tata produced its first commercial car in 1991. In addition to producing their own cars and the brands purchased from Ford in 2008, Tata also stayed true to their roots in commercial vehicles with their 2004 purchase of Daewoo Commercial Vehicle Company (now known as Tata Daewoo).
Geely
The Zhejiang Geely Holding Group, known colloquially as Geely, was founded in 1986 in Taizhou, China. Originally a maker of refrigerator parts, Geely released its first motorcycle in 1994 and its first automobile in 1997. The company bought Volvo from Ford in 2010. Geely Auto and Volvo worked together to create Lynk & Co. Designed and built in Sweden, Lynk & Co. cars were first released in China in 2017 before expanding into Europe in 2020.
Hyundai
Hyundai was created in 1967 as an automotive offshoot from the successful Korean company Hyundai Engineering and Construction. After working with Ford to create the Ford Cortina, Hyundai hired engineer George Turnbull to help them create their own car, "The Pony", in 1975. That was the start of a very successful run. Eventually they were even able to buy their rival and fellow Korean car company, Kia. Hyundai founded Genesis Motor, a luxury car brand, in 2015. And just 9 months ago, the company created Ioniq, a fully electric vehicle division. Together these brands form the Hyundai Motor Company.
General Motors
GM began when Louis Durant, a former horse drawn carriage company mogul, purchased the Buick Motor Company in 1908. He soon added a slew of acquisitions including Cadillac and the Rapid Motor Vehicle Company. The latter eventually became the General Motors Truck Company, or GMC for short. But in 1910, about two years after he formed the company, Durant was forced out of General Motors by stockholders. He turned to his friend, race car driver Louis Chevrolet. Together with a few investors, they founded Chevrolet in Flint, Michigan. About six years later, Chevrolet became the majority shareholder of GM and Durant returned to run the company. Many GM brands have come and gone (including Oldsmobile, Pontiac, Saab, Hummer and Saturn), but those core four of Cadillac, Chevrolet, GMC, and Buick have remained the center of the General Motors family for over 100 years.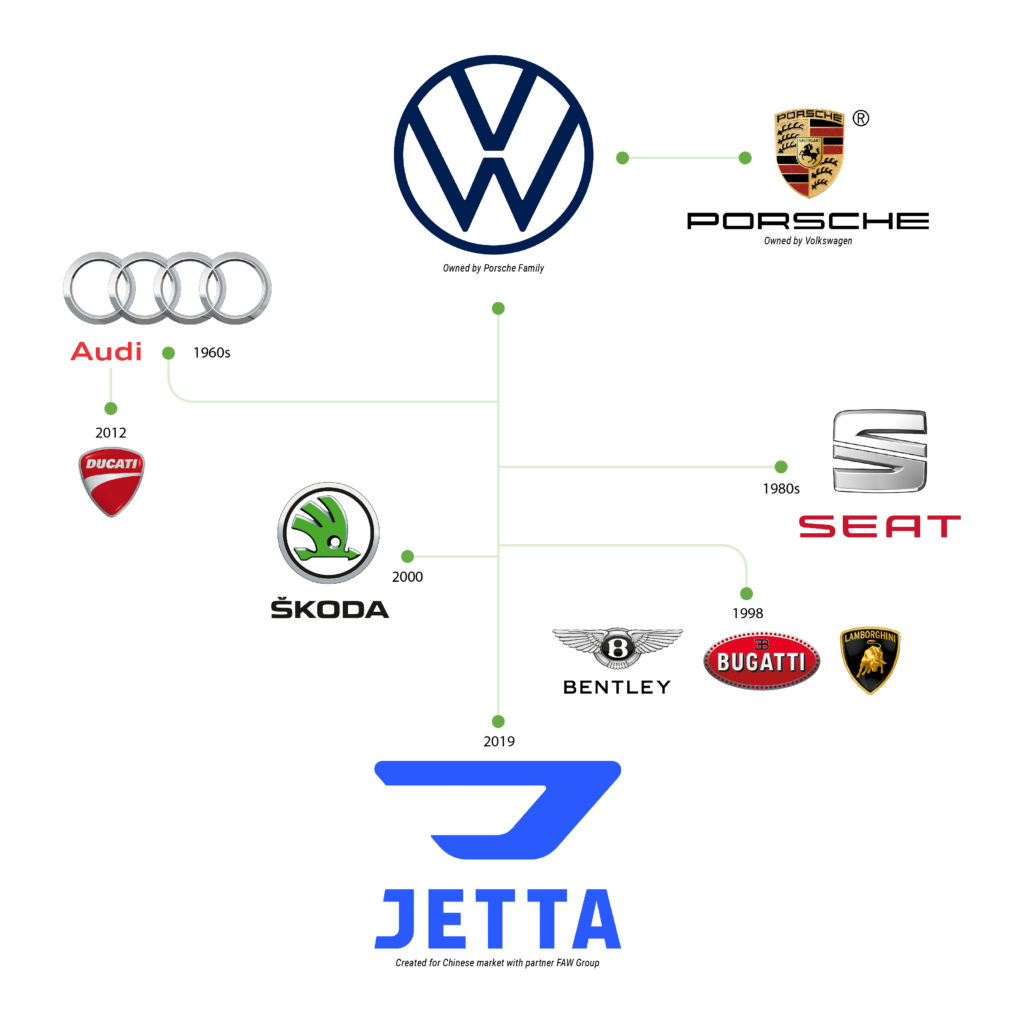 Volkswagen
We've saved Volkswagen for last because, quite frankly, they own a sinful amount of the world's most famous car brands. They acquired the German company, Audi, in the 1960s from our old friends Daimler Benz. After SEAT's split with Fiat in the 80s, VW won out over several competitors to acquire the Spanish automaker. With the Velvet Revolution and the fall of Communism in the 80s, the Czech government began to privatize their state run businesses. This included Škoda Auto. Over the next 10 years, Volkswagen gradually took control over more and more shares of the company. In 2000, Škoda became fully owned by Volkswagen. In 1998, VW went on an absolute spree, snapping up Bentley, Bugatti, and Lamborghini. They placed Lamborghini under Audi's control and in 2012 Audi bought the motorcycle company, Ducati. Always looking to the future, Volkswagen created Jetta, a marque to be built and sold exclusively in China. The relationship with Porsche is somewhat more complicated. To put it simply, through a lot of stock shenanigans, Volkswagen owns Porsche but the Porsche family owns Volkswagen. A true car company ouroboros.