Sonic Gray Pearl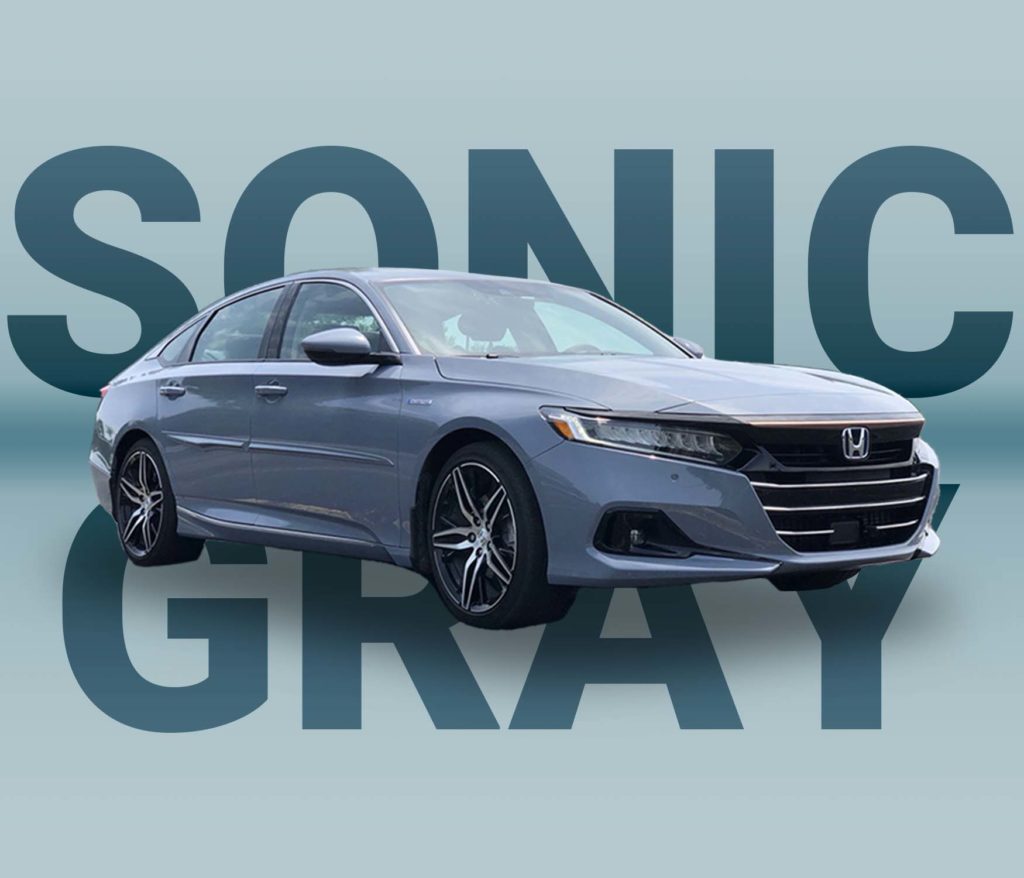 Honda's Fascinating Sonic Grey Shade
We've come a long way from the days of Henry Ford's boast that "Any customer can have a car painted any color that he wants so long as it's black". These days, car owners have more options than ever before. From Acura's NSX Thermal Orange Pearl to Aston Martin's Lime Essence, we are in a renaissance of unique colors. That's why it's no surprise that everyone's favorite color is…gray? Yes, you're hearing that right. No error was made. This sleek and elegant shade has become wildly popular with many car companies racing to get their own spin on the color out. There are many gray colors sweeping the nation but we're here today to give you just a little information about Sonic Gray Pearl.
Sonic Gray Pearl
Where did this gorgeous shade come from? Sonic Gray Pearl is the brainchild of Tokyo's very own Honda Motor Co. Introduced in 2017, the Sonic Gray made its debut on the Honda Civic. It proved popular enough that last year, the 2022 Honda cars that came with Sonic Gray Pearl included the Accord, the Civic, the CR-V, the Passport, the Pilot, and the Ridgeline. Its hot streak continues into 2023. You can find Sonic Gray on everything from the Honda Civic to the with its inclusion in the colors for everything from the Honda Civic Sedans to the Honda SUVs and even on trucks and minivans. On most of these models, it costs an extra $455 to get this shade on your vehicle. And yet people are willing to pay. Let's dig a little deeper into that.
A Mysterious Shade
Why is the Sonic Gray Pearl so popular for Honda car owners? Well…you may just have to see one in person to understand why. Many Sonic Gray Pearl drivers have reported online that it is simply impossible to understand what the Sonic gray color is just from photographs. One driver admitted that they initially had buyer's remorse after purchasing their 2022 Honda CRV. It looked to them like they had purchased a powder blue vehicle. But while they were lamenting their error, something shifted. They looked again and their 2022 Honda was gray. The key here in the Sonic Gray Pearl is the word "pearl". That pearl gives it a quality which changes the Sonic Gray color as the light shifts in different ways. Naturally, people see gray. Sometimes it comes out as powder blue. One driver even reported seeing it as purple. This fascinating color quirk is a huge reason why so many customers are obsessed with the shade.
How To Take Care of Your Paint Job!
If you're one of the many lucky people who already have Sonic Gray Pearl on their vehicle…can you pop out and tell us what color it is right now? No? Oh well, worth a shot. Let's talk about how to keep your Sonic Gray looking pristine! There are a lot of preventative measures you can take to keep your paint from fading. First, you should put together a cleaning schedule. A dirty car will wear down the Clearcoat. Frequently washing your car will help. Make sure you clean your brushes and sponges in between cleanings. Any abrasives caught in your cleaning materials will be ground into your car's coat and can leave behind scratches. Clearcoat provides a measure of UV protection but covering your vehicle will help your paint last. If you don't have a garage, a cover will help protect your car paint from the sun, rain, dirt and other detritus.
Touching Up Your Paint Job
Given that TouchUpDirect is a touch up paint company, we would be remiss if we didn't talk a little about what to do if you find scratches in your Sonic Gray. Prep the surface of your vehicle by washing the entire thing with soap and water to get rid of contaminants. If the damaged area of your car has deep cracks, scratches, or gouges, we sell a spot putty filler in our store. Lay down the Primer first. This will allow the paint to stick to the surface of the car. Apply 2 to 3 coats evenly over the damaged area. Allow it to dry for 15 to 20 minutes before adding the Colorcoat. The Colorcoat is the actual color you see on your vehicle. Again, apply 2 to 3 even coats before allowing it to dry. Clearcoat is the final step here. It will protect your paint from everyday contaminants and the sun. It also adds gloss and makes your paint shine.
So now you know about the gorgeous color that is Sonic Gray Pearl. We hope that we've given you enough information to make the right decision. Will you be one of the lucky people who adorn their car in this fascinating gray…or blue…or purple depending on where the light is? Your car color says something about you to the world. Are you a relaxed blue? An elegant gray? A whimsical purple? With the Sonic Gray Pearl, you don't have to choose.
Why not learn more about Nardo Gray and the other fabulous gray colors you can get on your vehicle? Here are just a few shades we think you'll enjoy getting to know.



If you have other issues with your cars, trucks or motorcycles, check out our YouTube channel! Our videos range from learning how to get a great finish using a polishing kit to touching up motorcycles to instructions on your DIY projects.