Is Car Spray Paint For You?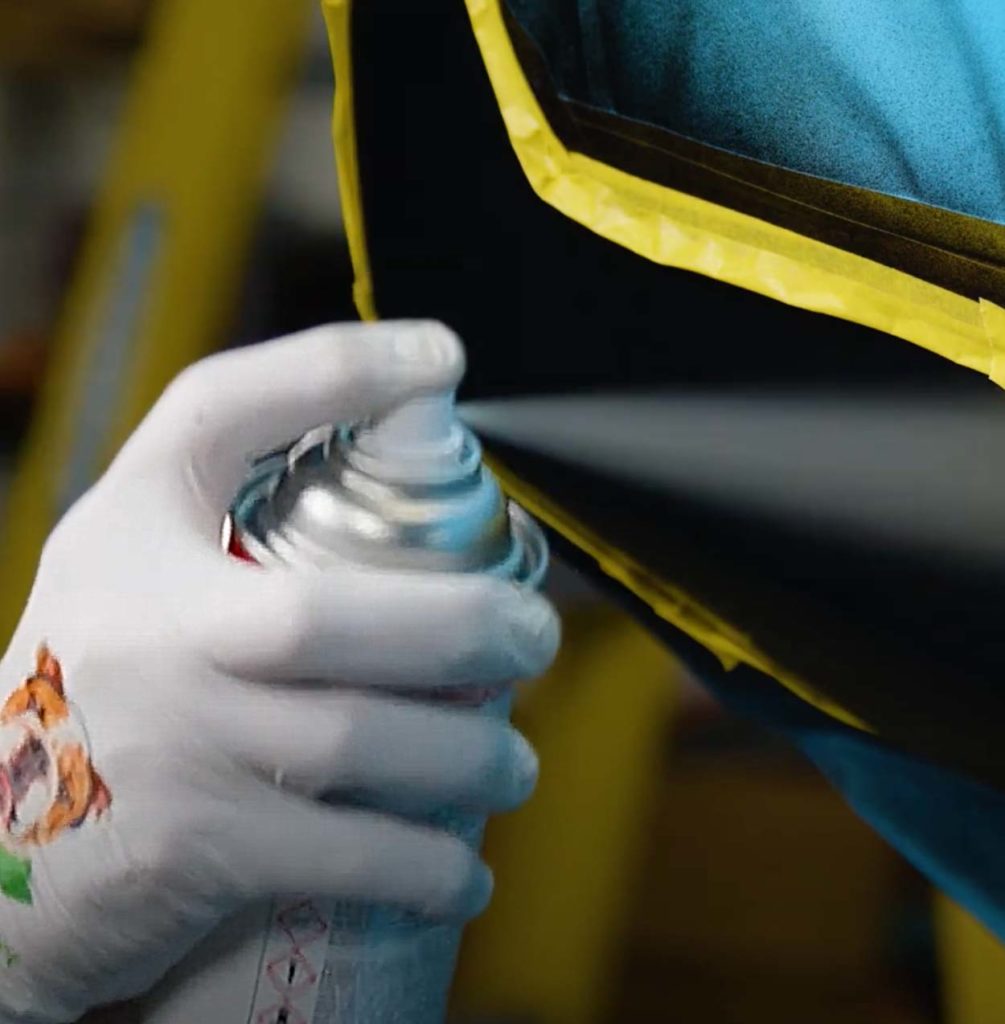 We here at TouchUpDirect love helping our customers fix up those little nicks and scratches on their car's coat. Our Brushes and Pens can cover everything from tiny scratches to small scratches. But what if you want to cover an area that's a little bigger? Like say…an entire panel? Don't fret! We've got a solution: Spray Paint. TUD's Aerosol Spray Paint for cars can smoothly cover large areas with ease. This is a plus for your touch up needs but automotive spray paint is also a godsend for car customizers. Let's run through the benefits and techniques that make Aerosol spray paint an ideal choice for your vehicle.
Why Aerosol?
So why should you use Aerosol spray paint for your automobiles? For starters, it makes the whole painting process much faster. From the Primer to the Colorcoat to the Clearcoat, spray painting a large panel should only take a few hours (And most of that is dry time. But we'll get to that later). As it covers a larger area, the Aerosol spray creates a much finer, smoother and more professional finish than you would get with the Pen and the Brush applicators. Spray painting your car is also cheaper. Taking your car to a professional could run up a four digit price tag. You could save your money and do it yourself at home for much less. If you're worried about the difficulty of automotive spray paint touch up, TouchUpDirect's Aerosol Spray Paint is also incredibly easy to apply. Its rotatable comfort tip creates a smooth and even fan pattern on the surface of your vehicle. We'll walk you through the process in a little bit but if you're still concerned about your DIY ability, TouchUpDirect has an entire library of how to's just waiting for someone to instruct. Get a DIY paint job that looks professional! All you have to do is take a few precautions and follow a few simple steps.
Waterborne Paint
The first thing you should do is look for your vehicle's color code. This code allows companies like TouchUpDirect to give you a pinpoint accurate color paint match to what's already on your car. We take your code and match it to the original manufacturer's formula. If you can't find the color code on your car, TouchUpDirect's website has the means to help you locate it via the make, model, and year of your vehicle. Most of TouchUpDirect's paints are waterborne, meaning that it's based in water instead of solvent or urethane. This is the type of paint that most modern automobiles are painted in. It has a greater depth of color than its predecessors, incredible durability and is much better for the environment.
Other Types of Paint
Speaking of its predecessors, having a more vintage car means that you might require an older type of paint. They simply do not have waterborne formulas for certain automobiles. For your older models, TouchUpDirect does create urethane paint if we cannot find a waterborne formula for it. Popularized in the 80s and 90s, urethane offered good color and durability for the era. You will likely need Primer and Clearcoat for your touch up projects. Both are urethane. Two types of paint that TouchUpDirect does not sell are enamel and lacquer. Enamel paint is cheaper and fast drying, but has a much lower durability. Lacquer paint is lovely to look at but emits such high VOC that it's banned in the state of California. You can get the lacquer-esque gloss effect on your car's paint through the use of Clearcoat. But if you want the peak amount of shine on your car's coat, we recommend a polishing compound. You can find one for sale in our store! TUD Polishing Kits remove roughness in the finish, small runs and drips, mild shrinkage, and the smallest blemishes in the Clearcoat of a paint job.
Prepping Surfaces
Let's go over the touch up process with Aerosol spray paint. You can usually break down the process into 3 sections: Primer, Colorcoat, and Clearcoat. But first, you must prep the surface for painting. This is especially true for Aerosol paints. Make sure that you're in a well ventilated area. This is to keep you from inhaling hazardous fumes and to stop the build up of flammable gasses. Even when you're in a well-ventilated area, you should mask up! Wearing a mask while you spray paint your car is just the safe thing to do. You should also use Aerosol spray paint in a good light. This isn't for your health, it'll just help you achieve a better paint job. As you start your painting journey, you'll first want to wash your entire car with soap and water. Before you begin, you'll have to prep the surface. If you see deep cracks, scratches, or gouges, we recommend filling it with a spot putty filler. You can grab filler and other accessories at our store! You need the surface to be smooth before you start spray painting. This is where sanding comes in.
Wet Sanding
Sanding rough surfaces before you paint buffs out all the rough areas that would be visible even through the gloss and clear! It's also good for taking rust off the metal on your car. Car spray paint alone will not fix a bumpy surface. Use masking tape to tape off the area you'll be working with. This will ensure that you don't accidentally sand undamaged parts of your paint job! Since this is Aerosol Spray Paint, make sure to include non-damaged areas where the paint will have to blend with the color of the car. Next, you'll need 800-1000 grit sandpaper to smooth out the damaged area. Fold your sandpaper into thirds and fully dip it in a cup of water. Staying within the taped off area, apply short and even strokes. Sand in the same direction as the scratch. If you can see bare metal or plastic, you'll need to put a layer of Primer down before you start painting. Due to its binding properties, Primer makes color stick to whatever it needs to stick to. It also acts as a protective coat, fighting rust and other detrimental elements.
Primer, Colorcoat, & Clearcoat
Shake your Aerosol can well at the start and then periodically between sprays. Start spraying 1-2 inches before the target area. Keep holding the trigger down and spray until you are 1-2 inches past the target area. As you continue to apply the Aerosol spray paint, overlap your previous passes by 50%. Keep spraying until the surface is evenly covered. Do 1-2 coats, waiting 10 to 15 minutes between coats. Wait until the Primer is dry and you're ready to paint! You'll want to do 2-3 coats of your Colorcoat. You're going to work the same technique as you did for the Primer (Starting 1-2 inches before, stopping 1-2 inches after, and overlapping your previous passes by 50% until the surface is covered). Make sure to wait 15 minutes between coats. When you're done spraying, aim the can in a safe direction and give it 2-3 quick bursts to clear the nozzle. If your car color is a Tricoat, you will have two layers of paint in between the Primer and the Clearcoat. In this case, simply repeat the Colorcoat instructions for the Midcoat. Once your paint has dried for 30 minutes, it's time for the final step. Using the same methods as the Primer and the Colorcoat, spray even layers of Clearcoat. Clearcoat is a vital and unskippable final step with most modern paint jobs. Not only does it give your touch up job a touch of gloss and shine, Clearcoat provides protection from everything from UV rays to everyday detritus and debris. It is also the final key to giving your car coat a true color match. You won't get a perfect match without your Clearcoat. We recommend no more than 4 coats with a 15 minute dry time between coats. Allow everything to dry for 48 hours and you're done!
We know that DIY touch up can feel a little daunting, especially with Aerosol spray paint. But with just a little bit of preparation and care, you can make your car's coat shine! Just by reading this, you've already learned so much about spray paint for cars! You now know about Primers, Colorcoats, and Clearcoats. You know that automotive spray paint is a cost effective way to cover large areas of your car with ease. And if you need a little help trying to figure out how to do it, check out our more detailed instructions! TouchUpDirect is here to give you your perfect color match and a great touch up experience. If you have other issues with your cars, trucks or motorcycles, check out our YouTube channel! From learning how to get a great finish using a polishing kit to touching up motorcycles to instructions on your DIY projects, we've got you covered.