What is Color Match Guarantee?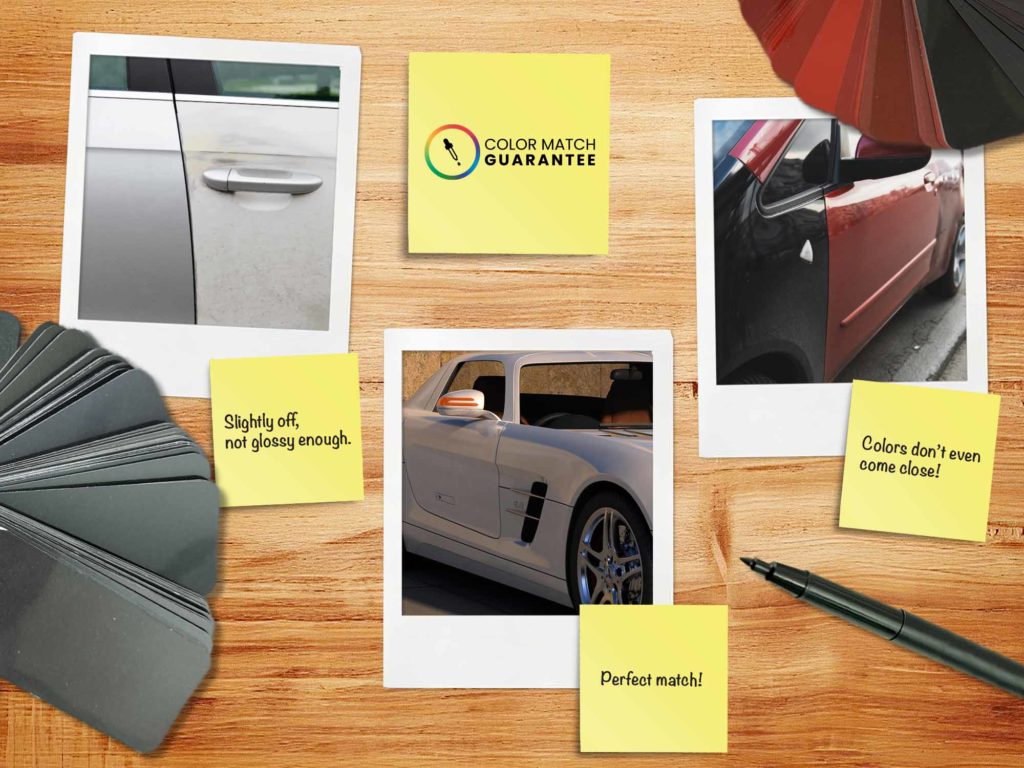 One thing we get asked about a lot is our Color Match Guarantee. Which makes sense because we mention it quite a bit on everything from our website to our packaging. Unfortunately, the question we seem to get most is "what is a Color Match Guarantee?" So in this blog, we're gonna explain how our Color Match Guarantee works, when you need to use it, and how to set the whole process in motion. First, let's answer the big question.
What is TouchUpDirect's Color Match Guarantee?
We take great pride in our paint and we want you to have the best touch up experience possible. Sometimes, people pick the wrong option. Perhaps a customer chose a slightly different shade of blue when they were placing their order. The end result is that someone has ended up with a shade that is not a color match for their vehicle. We don't want you driving around in a car that has slightly different colored patches. That's where the Color Match Guarantee comes in. Most of the time, our customers get the right shade for their vehicle. But if your paint doesn't match, contact us here. Our incredible customer service support team is on standby to help you out. You will have to answer a few simple questions so we can help you find your correct color match. Once we have received your color match guarantee submission, one of our knowledgeable support team will review your submission and collaborate with your production team to review paint samples of your color code to determine a perfect match. Once we have found the variant that matches your color, we will immediately send it into production so we can get the replacement to you as fast as possible.
Getting The Right Color Match On The First Try
First, we'll look at the ordering stage. We get our colors directly from the manufacturers' databases. In addition to the plethora of colors coming from each company, there are also different sheens and effects that complicate matters considerably with new variables. Sometimes the same model of a car could be made in different factories leading to even more variations! Let's take a quick look at how car colors are cataloged in general. When making the different shades for vehicles, car companies will assign different codes to each individual shade. For instance, a 1997 Chevy Corvette in torch red has the color code: GKZ/WA9075/70/71. A 2003 Acura in satin silver metallic has the color code: NH-623M. A 1969 Chevrolet Corvette in black has the code: 900/W8E5118/AA/10/19/19A/41. But how do you find the color code on your car? Everything you need to know is on or in your car. Exactly where it's located varies from make to make. You can usually find the color code information on your service parts information sticker. Likely places you will find the sticker include the door jamb, the trunk lid, or under the hood. Or you could simply go to TouchUpDirect's website and find the make, model and year of your car in the dropdown menus. You'll then be taken to a page where you can find your color and its code. Which is probably an easier option than going on a car paint code scavenger hunt.
Now that you've ordered the paint dictated by your color code, we strongly recommend testing out your paint before it goes on your vehicle. All TouchUpDirect paints come with a test card. Apply your Colorcoat to the card. Wait for it to dry. If your color's shade is a Tricoat (glossy or candy colored), you will need to add a Midcoat at this point. After the color is dry, there is one more step that is hugely important. Do not forget to add the Clearcoat to your test. It's simple to overlook, but the Clearcoat is needed to get the full picture of what your paint will look like once it is on the car. You could easily mistake your color for the wrong one because it does not have a Clearcoat layer. Lift the card up to the vehicle. If it matches, you're good to go. If it doesn't, please get in touch.