TouchUpDirect Helps Kids Learn to Ride and Wrench!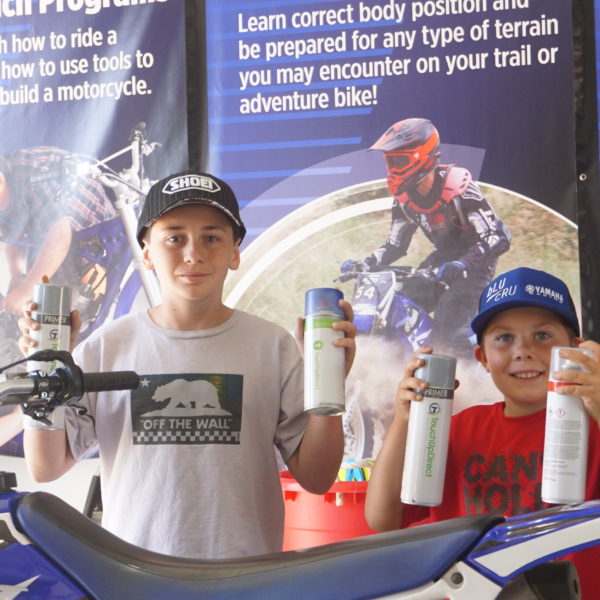 TouchUpDirect has partnered with Rich Oliver's Mystery School to offer a scholarship to help a lucky youngster learn how to ride a dirt bike and practical mechanical skills. Check out the program below and get someone you know involved!
About Rich Oliver's Mystery School Kid's Ride and Wrench Program
Rich Oliver's Mystery School developed the Kid's Ride and
Wrench programs in 2017 because as we have met children during our Learn To Ride Off-Road classes, we noticed that there was a lack of mechanical knowledge and a hands-on understanding of how to maintain the motorcycle and how the components work together.
We created the Kid's Ride and Wrench Camps to address this
issue and are excited to say that the kids respond very well to the use of
tools, maintaining the motorcycle, how an engine works, etc. They learn a general understanding of the metric system in order to use metric tools and how to use calipers to measure nuts, bolts and screws so they could understand the dimensions of the hardware.
We teach them how a motorcycle works mechanically, how to
use tools by matching the correct tool with the type of fastener that it fits,
how to tighten nuts and bolts down using a torque wrench to the proper torque setting.
We have teams of two youth work together to reassemble a complete
motorcycle that had been stripped down to just the frame and engine. They also did a matching game where they had to match a variety of TT-R body work with the correct TT-R model (TT-R 90, TT-R110, TT-R 125).
What Students Learn
They learn how to check the oil, change the air filter, check the fuel level, clean the motorcycle and lube the chain.
Students also learn basic motorcycle riding skills, including how to use the clutch, brakes, shift gears, proper balance and control, and how to maneuver on off-road terrain. By the end of the course, they are riding our fire road style moto track where they get repetition and seat time practicing all the skills that they learned.
The Kid's Ride and Wrench Camp is offered on weekends and a there are also two Kid's Ride and Wrench Summer Camps offered in June. Visit www.richoliver.net or call (559) 855-3089 for more information. All courses are conducted at the school's training facility in Prather, CA.
Rich Oliver's Mystery School was created by five-time AMA 250 GP Champion Rich Oliver and his wife, Karin, in 2003. They offer a multitude of courses including the above-mentioned Kid's Ride and Wrench Camp, a Learn to Ride Off-Road course for new riders, an advanced Off-Road Challenge Course, the popular Two-Day Fun Camp for street riders, a POST certified Motorcycle Officer Update Course and Private Training Days.
Thank you to Touch Up Direct for sponsoring a youth who otherwise would not have been able to afford this opportunity.