THREE DAYS IN ZION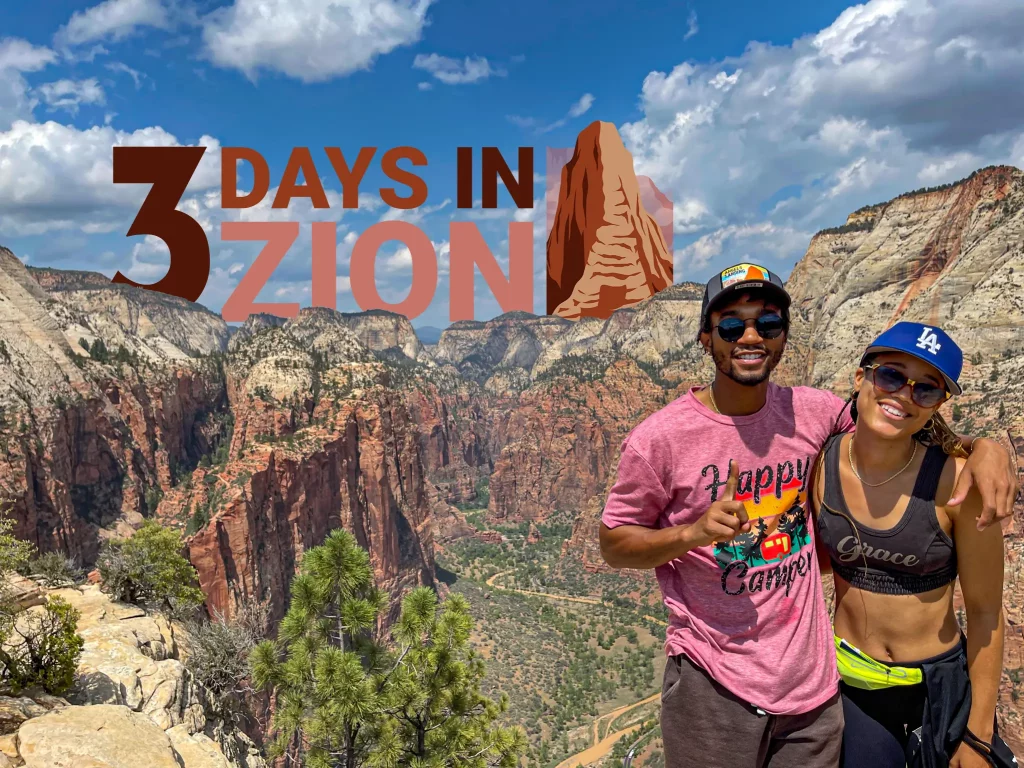 Call To Action
On August 11, 2021, My cousin Grace and I received a text message from our Uncle Eric.
"Yo, yo, yo! I'm thinking about taking my RV out to Zion National Park in Utah this weekend and spending some time there riding my E-Bike. Are you two interested in tagging along?"
My immediate thought was that I absolutely did not have time to go on a vacation right now. I called Grace to find out her reaction to this impromptu adventure and learned that she was in a very similar boat as me. But even though she didn't have the time, she still wanted to go because making memories with our family was important. Also we were told that the RV had WiFi, which helped. But even with that, I was still swamped with work and school. After days of indecision, I texted Grace that there was no way I could swing the trip and threw myself to the floor dramatically to sulk. And I stayed in my stress ball, defeated and overwhelmed, until the day before the trip. Suddenly, I felt a random burst of spontaneity. I threw caution to the wind and called Grace around 7:30 PM. "YOLO! Let's do this! It's time to make some memories" I proclaimed. We left her house in Upland by 9:30 for Uncle Eric's house in Calabasas.
When we woke up the next morning, Uncle Eric had already left to pick up the RV. I was left with the task of riding the E-Bike down the hill to a nearby bike shop, where we would get the RV fitted with a rack to help make transportation a little easier. The bike rode like a dream and I felt in perfect control of my pace the entire way down the hill. I arrived at the shop before my cousin and uncle who pulled up 10 minutes later in the RV. This was my first time ever seeing my Uncle's behemoth of an RV, a Fleetwood Fortis 33HB who he aptly named Ziggy Zoom. Ziggy was a monster. A fully loaded mobile living all purpose unit, equipped with 3 sleeping accommodations, a refrigerator, a microwave, an electric stove top and oven, onboard WiFi, 1 ½ restrooms, two interior TVs and one on the exterior. Needless to say, we did not lack any kind of comfort on our odyssey to Zion National Park.
The Road To Zion
It was an 8 hour ride from the hills to our camping spot in Leeds, Utah. Thankfully, everyone in my family are huge nerds, myself included. During the ride, we listened to an audiobook of the first Dune, which helped time pass much faster. Uncle Eric, being the one who introduced me to the series, tried his best not to spoil major plot points. And Grace, who was the least interested in the story, read her own book when she got bored of ours. We spent the first 5 hours listening to Paul Atreides learn about the sand planet of Arrakis and leave his home world of Caladan. After which Grace decided she wanted the opportunity to drive Ziggy Zoom herself. I audibly laughed and internally thought to myself "Lol couldn't be me!" But she handled the colossal vehicle like a seasoned veteran. I was impressed but not so much that I'd change my stance on driving Ziggy.
The drive continued into the night and after an extra 20 minutes of fumbling down a few lightless roads, we arrived at our glampsite exhausted around 8:30 PM. We activated our generator and secured Ziggy to the mainline water apparatus. After the external setup concluded, Uncle Eric looked at us with a devilish smile saying "Are you guys ready for the coolest part?" Grace and I locked eyes confused as he began to flip a few switches on the main console. Instantly, Ziggy Zoom hummed to life and to my bewilderment started to expand in width. "Now there's even more room for activities!" I exclaim laughingly. After the surprise of what we just witnessed wore off, our exhaustion returned and we decided to turn in for the night. Grace slept on the pullout futon in the main living area. I took the cot above the driver and main passenger seats while Uncle Eric slept in the master bedroom.
The Emerald Pools
We woke up around 6 AM. Uncle Eric seemed eager to christen the kitchen and make us breakfast. He served up a healthy portion of eggs with spinach, onion and tomatoes, paired with some sliced pineapple and grapes on the vine. The food was good but partaking in a meal with those you love is always enjoyable. After breakfast, Grace and I called an Uber and rode into the nearby city of Hurricane to pick up a rental car. After getting charged an exorbitant amount of money we returned to see if Uncle Eric was interested in going on a hike in the park. He was much more interested in riding his bike around so Grace and I left on a cousin adventure of our own.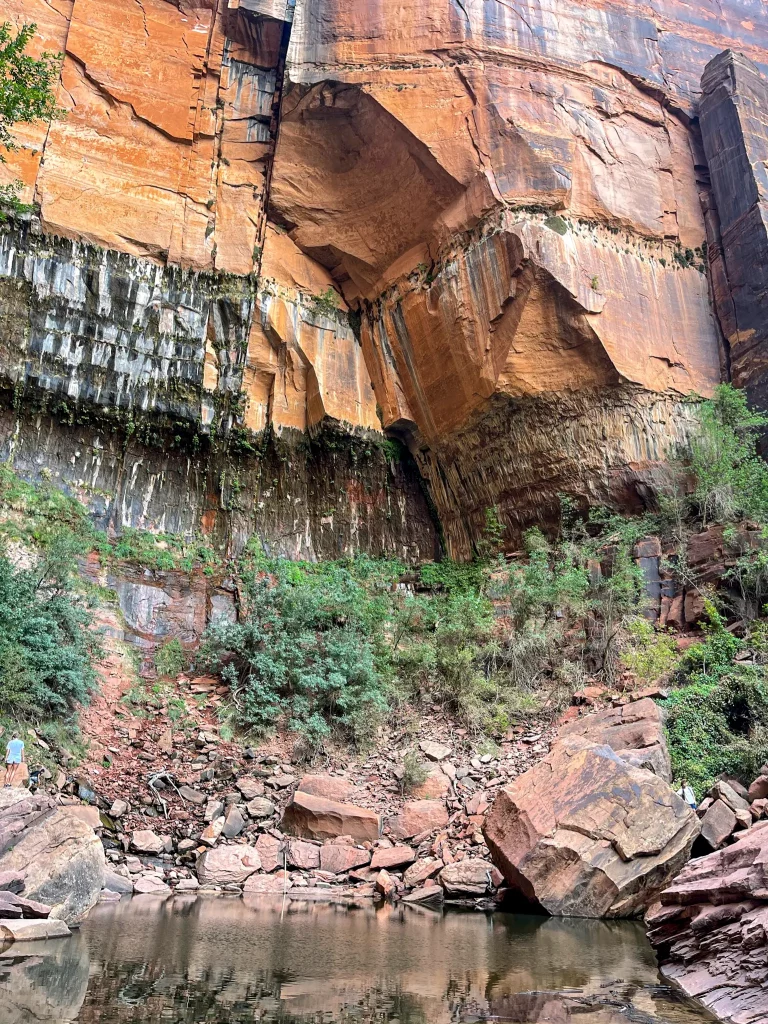 I can not understate just how captivating the landscape of Zion National Park is. We spent 3 days there and barely even scratched the surface of the various hikes and activities that were available for adventure seekers and nature lovers alike. Clouds rolled over the mountain tops as we crossed the threshold that separated the city of Rockville and the Park grounds. During our journey to the park, we drove past Uncle Eric completely focused on his bike, speeding down a hill headed in the opposite direction back towards camp. "Seems like he's having fun" I thought to myself. Minutes later we arrived and parked near the gift shop. As soon as we got out of the car, it immediately started pouring rain. We ran into the store where luckily we were able to purchase waterproof ponchos, a map, and get some information about which hike we should tackle first.
We learned that the three most popular hikes were and are The Emerald Pools, Angels Landing and The Narrows. The Narrows seemed like the most interesting hike but unfortunately we had arrived during the rainy season. The water levels were deemed too dangerous for patrons to hike through. We also learned that Angels Landing was commonly referred to as the most difficult hike in the park. It featured winding paths and a myriad of other interesting things.The most fascinating aspect was the free climbing portion that required utilizing hanging chains to reach the apex of the mountain. We decided with it being our first day we'd choose the easiest of the three hikes, the titular Emerald Pools. The hike got its name from various terraced areas which were filled with fresh water from mountain runoff. The hike was recommended because the rainy season created several small but beautiful waterfalls which fed directly into many of the pools. It was 1.2 miles to the first section of ponds, 2 miles to the median pools and 3 miles to the top portion. Of course, Grace and I hiked to the top set of pools where we enjoyed a stunning view and the sounds of nearby waterfalls with other hikers from around the world.
When we arrived back at our campsite, we found Uncle Eric had already set up a bonfire and was casting a show to Ziggy's external monitor. I ran into the RV and pulled out the two tennis racquets I brought along in the hope that I would get to play in this majestic environment. My dear uncle and cousin begrudgingly agreed to accompany me to a tennis court "if I could find one". And boy did I find one. The drive took 15 minutes but eventually we made a right turn down an iron rich dirt road, and half a mile later we pulled into a parking lot and saw a beach volleyball court and a tennis court. We only had about 45 minutes until the sun went down but everyone got the chance to play and everyone had a blast. The scenery was breathtaking. We concluded the night with dinner, a veggie pasta, movies and trying Uncle Eric's Famous smoothies which he liked to call his "Smoothie Bro".
Angels Landing
The next morning started with breakfast, exercise and general relaxing energy. The three of us decided that today was the day to tackle the most difficult hike, Angels Landing. A roughly 5.4 mile round trip with an elevation of 1488 ft at its highest point, it would take us roughly 4 hours to complete. Angels Landing has a very funny way of lulling you into a false sense of security. The hike started very peacefully, featuring rusty dirt pathways, beautiful flora, distant sounds of fauna and even the moving current of the Virgin River. This relaxing energy lasted for about 30 minutes. Then, seemingly out of nowhere the incline spiked as the dirt roads gave way and the stone pathway eroded by years of foot traffic. "Phew, Is it me or is this hike progressively getting more difficult?" Uncle Eric chimed. Once again, Grace and I locked eyes and realized just what we'd gotten ourselves into.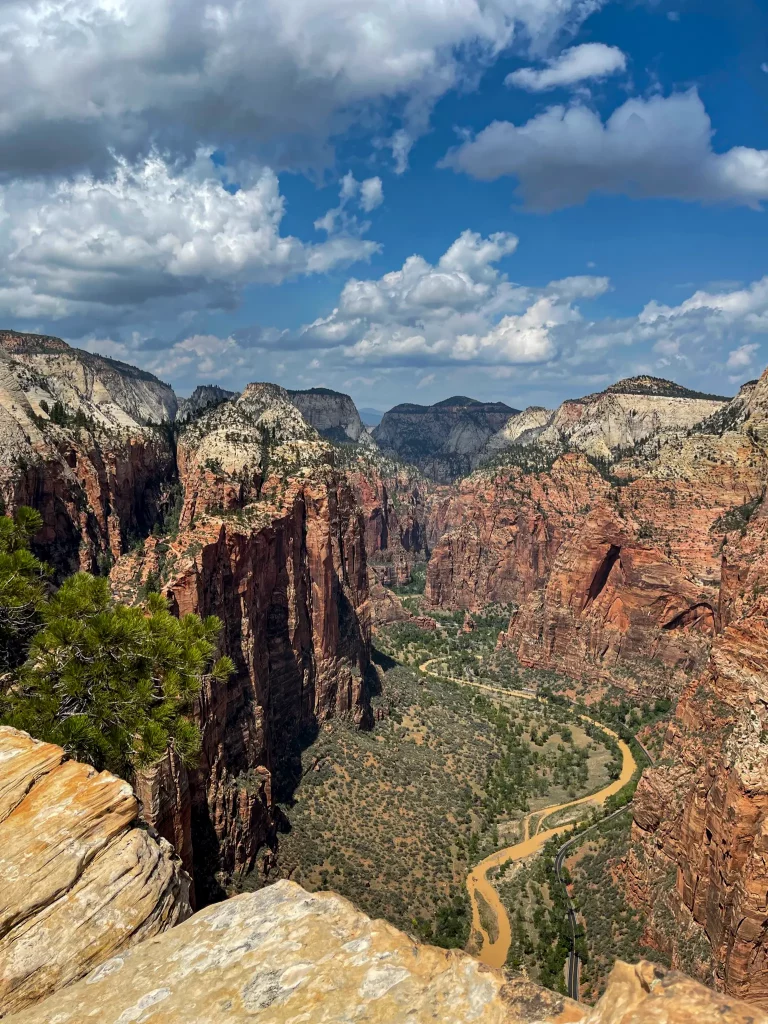 The next 45 minutes were hot, we scaled the sunny side of the mountain. There was no shortcut; we just had to place one foot in front of the other and press on. The pathway wound upward like the body of a gigantic serpent. About an hour in, we rounded a corner into a valley filled with greenery. This initiated an intense decline that continued for the next 30 minutes. The mountainside in the valley had been eroded from years of weathering which created these really interesting natural and organic forms that were simultaneously beautiful and mystifying. Despite the beautiful scenery, I couldn't help feeling that this part of the hike was in direct opposition to our ultimate goal of reaching the summit. Sure enough, as we rounded the next bend, more terraced pathways spiraled back up an adjacent cliff face. Only this time with a much steeper incline. During this path, we were all pretty hot and tired so we stopped about halfway up for water and a photo. People smiled as they made their way past our party, speaking words of encouragement like " almost at the top" "keep going you got this" and "It's all worth it at the top". This gave us all a renewed sense of adventure. A half hour later, we came to a flat dusty terrace with lots of plants, and people resting from the intense climb.
The next leg of the hike would be the last. As we continued on, we were greeted by a steep incline with metal poles jutting out and a chain linking all the poles together. To make matters worse, there was a huge traffic jam of people all waiting to make it up the chains to their final destination. It was at this point that Uncle Eric stopped Grace and I with a deadly serious look on his face and said, "Little known fact, I'm terrified of heights." Needless to say he found the chaos and instability of the chain assisted climb to be too much for his acrophobia so he popped a squat on a nearby rock and said "I'll be here when you get back". We chuckled to ourselves and commended him on making it this far despite his fear. The climb up wasn't tiring or as hot as the rest of the hike was but the added danger introduced made that 20 minutes that much more stressful. On top of it all, there is the added fear of knowing that if you fall you're more than likely to bring others climbing near you down as well. The best advice I have for this particular part of the hike is to keep moving, don't look down, and hold on to the chain as if your life depended on it. We went up, we went down, and we hopped over gaps in the trail but 20 minutes later we were at the summit! Looking out across the Zion Valley with its beautiful red and white mountains surrounding you on all sides, contrasted with the lush flora and diverse fauna is an indescribable experience that I highly recommend. This trial of adversity was more than worth the price of admission. We descended from the summit and found Uncle Eric and showed him our photos. The day concluded at a nearby petting zoo that also sold silver and turquoise jewelry.
Let's Head Home!
The next day was August 20th, we decided we wanted to hit the road around midday, but not before Grace and I went on a last minute hike up the Watchman Trail. This hike was the perfect capstone to an exciting trip. Watchman followed along the virgin river and was a much more relaxing experience. It was one last chance to be in this beautiful environment. The very end saw you to a flat plateau near several larger mountains looking out over the Virgin River. We made our way back to the glampsite where Uncle Eric had already made most of the final preparations for our departure. We helped him with the last few things and after a quick rest in Las Vegas, we made our way back home. By some strange divine intervention, all of the issues I was going through and stress I was feeling were somehow beginning to remedy themselves. It just goes to show you taking a time to breath and living in the now can yield unexpected results and irreplaceable memories.