The Top 10 Most Expensive Cars Sold At Auction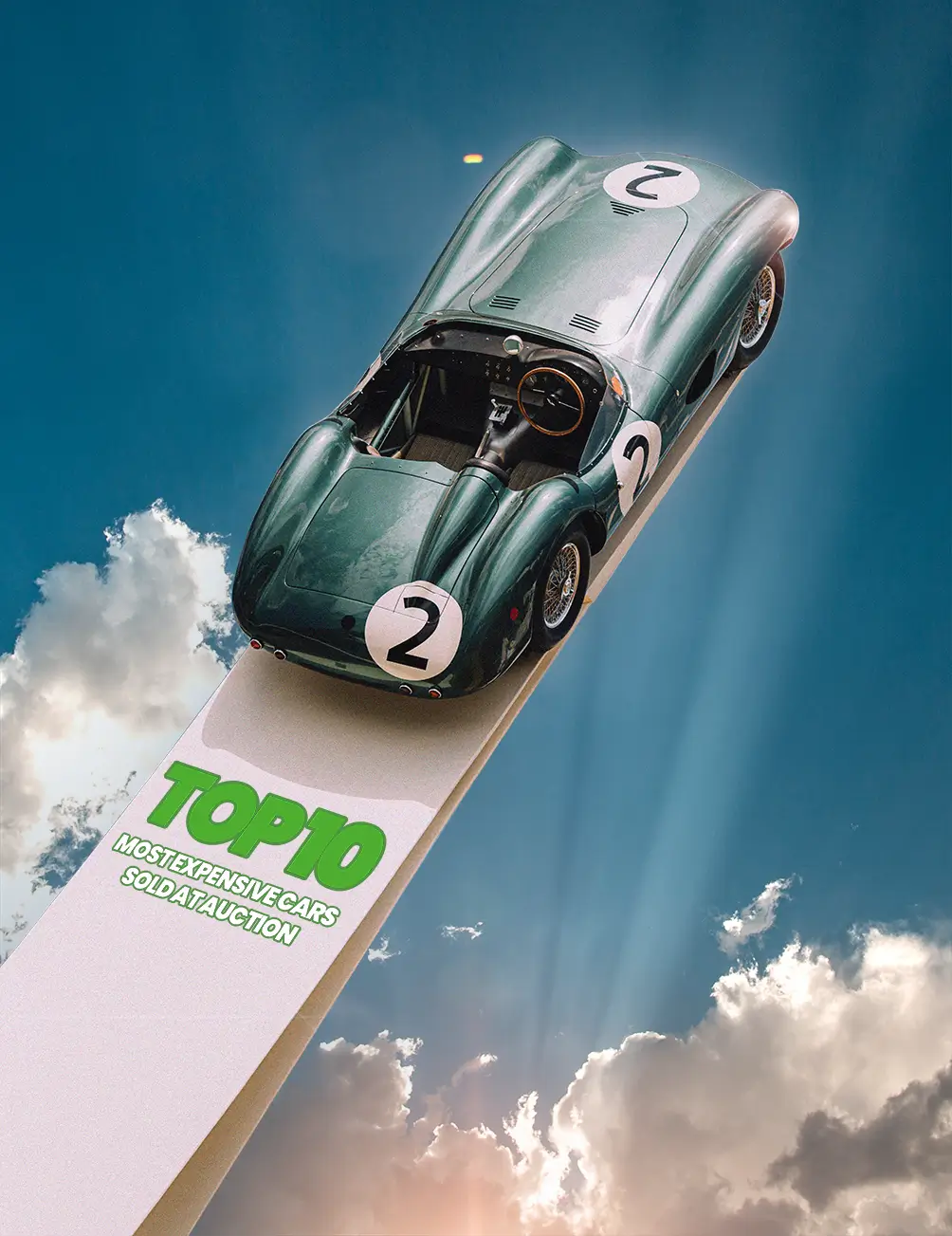 2022 was a banner year for car auctions, with two sales fundamentally altering the top 10 cars sold at auction. We've decided to take a look at the cars, their histories and exactly why someone would pay millions to own them. As of September 2022, here are the most expensive cars ever sold at auction.
10. 1955 Ferrari 410 Short Spider ($22 million at Sotheby's)
In the Fifties, Enzo Ferrari set his sights on conquering the Carrera Panamericana in Mexico, the final leg of the FIA Sportscar Championship. The track was famously dangerous and it was decided that to conquer it, a special car needed to be built. Ferrari gave this car a low-riding frame and a shorter wheelbase to better navigate the uneven terrain. These considerations and a huge V12 engine would surely win Ferrari the 1955 Carrera Panamericana. The Carrera Panamericana ended in 1954, after a disaster at Le Mans killed 84 people. The two 410 Short Spiders, having lost their raison d'etre, eventually made their debut in Buenos Aires but soon made their way into the hands of private owners. One was sold to John Edgar's privateer racing team, and arrived around the same time as their new race car driver: Caroll Shelby. Shelby and "Edgar's Modena Monster" turned out to be a formidable pair, racking up wins at an alarming rate. He would later call it "the best Ferrari I ever drove." The Modena Monster had 11 victories and 19 podium finishes in its career. After its retirement, the 410 passed through the hands of several private owners. It even ended up exhibited in the Shelby American Collection in Boulder, Colorado for a time. The 1955 Ferrari 410 Short Spider eventually sold for $22,005,000 in 2022.
9. 1956 Aston Martin DBR1 ($22.5 million at Sotheby's)
Aston Martin owner, David Brown, desperately wanted to win the 24 Hours of Le Mans. And now that regulations had changed, dropping the stipulation that all cars must be road legal, he finally had his chance. That was the first inkling of the idea that would become the Aston Martin DBR1. The car was outfitted with a 2.5 litre alloy racing engine, a space frame chassis, and a magnesium alloy body that made the Aston Martin 300 pounds lighter than its predecessor. Five DBR1s were made. The very first one acquitted itself well, winning the Nürburgring 1000 KM. It wasn't, however, the car that fulfilled David Brown's dream of winning Le Mans. That came in 1959, when two DBR1s took first and second place. Oh well. The ninth most expensive vehicle ever sold is nothing to sniff at.
8. 1964 Ferrari 275 GTB/C Speciale ($26.4 million at Sotheby's)
In 1964, Ferrari was ready to retire the 250 GTO. The iconic and wildly successful racer had won Ferrari The International Championship for GT Manufacturers three years in a row. The 250's longevity was admirable but their time had come to an end. Its successor would be a racing variation of the Ferrari 275. The 275 GTB/C Speciale would get a massive engine upgrade with a V12 engine and a thin bodywork made by Scaglietti. Efforts to make it lighter and more aerodynamic backfired. The weight came in much lighter than its roadfaring sisters and FIA refused to homologate the car. It was only when Enzo Ferrari threatened to abandon the GT competition that FIA agreed to compromise. Only one of the three 275 GTB/C Speciales would race. It acquitted itself well, placing third at the 24 Hours of Le Mans and competing at the Targa Florio and the 6 Hours of Nürburgring. But that would be its only season. Despite its short lived racing career, its rarity and quality assured that the 275 GTB/C fetched a huge price when it went on the auction block. In 2014, one of the three 275 GTB/Cs sold for $26,400,000 in Monterey.
7. 1967 Ferrari 275 GTB/4*S NART Spider ($27.5 million at Sotheby's)
By itself, the Ferrari 275 GTB is already considered one of the greatest sports cars of all time. But what makes the NART Spider so special? For starters, only ten were ever made. Their inception came about when Luigi Chinetti, the exclusive importer of Ferraris in America, convinced Ferrari that they needed to build a spider version of the 275. Chinetti intended to order twenty five but it sold badly. One of the ten went to Chinetti's friend, Eddie Smith. The rare sports car became a beloved family item. When Smith died, the car sat in the cobwebs in its own special garage located in an airplane hanger. The family made the difficult decision to auction off their patriarch's car in 2013. Likening its situation in the hangar to "sort of being imprisoned", the car was sold to Lawrence Stroll, the owner of Aston Martin's racing team. The Smith family all proceeds from the sale to charity.
6. 1956 Ferrari 290 MM ($28 million at Sotheby's)
Built specifically for Scuderia Ferrari, the 290 MM made its debut on a grand stage: The Mille Miglia. Driven by one of the greatest drivers in the world, Juan Manuel Fangio from Argentina, the car had a rather intense first race. As soon as the round trip race from Brescia to Rome began, the skies opened and torrents of rain bucketed Italy for the rest of the race. Surprisingly, despite starting dead last and racing in terrible conditions, Fangio and the 290 MM came in fourth place. After its auspicious debut, the Ferrari had a respectable and varied career. It placed in several Grands Prix. It was driven by some of the most famous and talented race car drivers of the era. And when it was retired and sold to a collector, the race car made school runs with its new owner. Almost 60 years after its first race, the 1956 Ferrari 290 MM was sold in New York for $28,050,000.
5. 1954 Mercedes-Benz W196 ($29.6 million at Bonhams)
The 1954 Mercedes-Benz W196 only competed in Formula One for two seasons. In that time, the W196s entered 12 races and won 9 of them. "00006", the car that sold for $29,600,000 in 2013, is responsible for two of those victories, winning the German and Swedish Grands Prix. It helped secure the Driver's Championship for Juan Manuel Fangio. It was Fangio who got the car on the racetrack to begin with. Fangio was drawn to Mercedes-Benz by their new W196s. These cars boasted "lightweight space frame chassis construction, fuel injected straight-eight 'laydown' engines with desmodromic valve actuation, all-round inboard-mounted brakes, and all-independent suspension with low-pivot swing-axles at the rear." While initially doing well at the French Grand Prix in Reims, the closed wheeled Monza Type W196 had a great deal of trouble at British Grand Prix, due to the terrible weather conditions and the tight turns of the Silverstone track. Realizing that they would have similar issues at the German Grand Prix, the drivers lobbied Mercedes-Benz to hurry along the promised open wheeled W196s that had been promised to them. The company rushed out three versions, including one that bore the chassis no. "00006". After its retirement, the car was given to the National Motor Museum in England. Needing to fund new buildings, the museum eventually sold "00006" into private hands. It is currently the only surviving W196 not in possession of museums or Mercedes-Benz.
4. 1957 Ferrari 335 S ($35.7 million at Artcurial)
One of only four versions made, this 335S had a fascinating start to its racing career. After a test run at the Sebring 12 Hour (where it placed sixth), it was entered into the Mille Miglia. It was thought that the 335 S would be a significant entry into the famous open road endurance race. They would be more right than they knew. While this particular 335 S came in second, another 335 S had a deadly crash that killed six people. This, along with another crash, eventually ended the Mille Miglia for good. The 335 S that placed second, however, went on to great success. It ended up back at the Scaglietti to get an upgrade that upped its horsepower from 360 to 400. It competed well at Le Mans 24 Hours and in various Grands Prix around the world. During its illustrious career, the car was driven by some of the most famous race car drivers of all time, like Stirling Moss, Wolfgang von Trips, Lance Reventlow, Masten Gregory, Luigi Musso, and Mike Hawthorn. It retired during the 1958 season and was bought two years later by an architect in Pennsylvania. Eventually sold into the legendary Ferrari collection of Pierre Bardinon, this rare gem eventually ended up on the Artcurial auction block in Paris. It sold for $35,730,510 to an anonymous buyer.
3. 1962 Ferrari 250 GTO ($38.1 million at Bonhams)
2. 1962 Ferrari 250 GTO ($48.4 million at Sotheby's)
At numbers 2 & 3, we've got the magnificent 1962 Ferrari 250 GTO. Originally designed for Grand Touring racing, the 250 GTO features a V12 engine and aerodynamic body. Only 36 were ever built and thanks to changes made to the cars during their racing careers, they are all unique in some way. These two Ferrari 250 GTOs were both, at one point, the most expensive cars ever sold at auction. They sold four years apart. The first, a Berlinetta, was sold in Carmel by Bonhams for $38,115,000. This particular Ferrari had a storied racing career, coming second in the Tour de France Automobile in 1962 and many other victories. But the Berlinetta suffered two major crashes that required overhaul. By 1965, its owner was considering cannibalizing the car so its V12 engine could power his boat. Instead, he sold the car to Fabrizo Violati. The Berlinetta stayed in the Violati family until 2014 when it was sold to a buyer in Brazil.
The second, which we will call the Scaglietti, sold for $48,405,000 in 2018. The third Ferrari 250 GTO built, the Scaglietti had an incredible first season on the hill climb circuit. It even won the 1962 Italian GT Championship and its victory in the 1964 Targa Florio helped Ferrari win the 1964 International Championship for GT Manufacturers. In that same year, the owner sent the car to the official Ferrari coachbuilder at Scaglietti in Modena. Its body received a serious upgrade, with a lower and more aerodynamic body meant to improve the car's handling and balance. Only 6 others of its class received this bodywork upgrade. Its buyer and current whereabouts are both unknown.
1. 1955 Mercedes-Benz 300 SLR Uhlenhaut Coupe ($142,000,000 at Sotheby's)
That's right. The difference between 1 & 2 is an almost $100,000,000 jump. The Mercedes-Benz 300 SLR Uhlenhaut Coupe is the world's most expensive car for a good reason. Only two versions of the Mercedes-Benz 300 SLR Uhlenhaut Coupé were ever made. They were prototype hybrids based off of the famously fast 300 SLR (Super Leicht Rennsport), that had been racking up victories all over Formula One. It wasn't terribly comfortable though. The open body of the 300 SLR meant that the faster they drove, the harder they were hit by wind. Rudolf Uhlenhaut, an important engineer and designer at Mercedes-Benz, looked at what could be done for long-haul racers. He realized that not only would a closed body version be more comfortable for drivers, the reduced drag would make it faster. They added gull wing doors and a more sculpted body. Two prototypes were built in 1955, one with a blue interior, one with a red. And that's all there would be. Before more could be built, a deadly crash involving the 300 SLR took place at Le Mans. The driver, Pierre Levegh, and 83 spectators were killed. After the disaster, Mercedes-Benz withdrew from motor racing for more than 30 years. Uhlenhaut used one of the sleek, fast prototypes as a company car for years and a few automotive journalists were permitted to test drive it. Other than that, the twin cars sat on the shelf until 2022. Mercedes-Benz had the idea to use this phantom legend of a car for good. They put the red car up for auction at Sotheby's, specifying that the proceeds would go to establishing a fund that would provide scholarships in the areas of "environmental science and decarbonization." It sold for $148,000,000 to a mystery buyer. The blue prototype remains on display at the Mercedes-Benz corporate museum.