Best Car Care Products List: End of Summer Car Detailing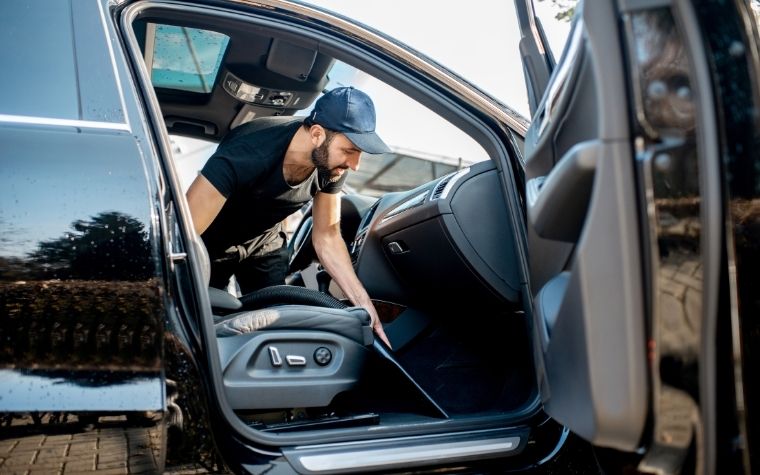 Car detailing is more than just preventative upkeep; it's about making your car look its best any time of the year. While many people may assume car detailing is only something for professionals, anyone can do it. If you just want to spruce up your ride to show off to friends or family, be sure to stock up on these car detailing products. This best car care products list will leave your car shiny and new before the season's over.
Buckets
When thinking of car care, the last item you may consider is a bucket. However, wash buckets are actually one of the most important items on this list. Car cleaning buckets have built-in grit guard inserts to capture any dirt or residue from your vehicle. As you rinse your sponge or cleaning mitts in the bucket, you also release any of the debris you've cleaned off the car. Having a detailing bucket on hand saves time and energy from constantly cleaning out the bucket water. Not to mention, without a built-in grit guard, you unknowingly smudge your exterior with dirty cleaning water, which may cause further exterior issues.
Soap and Shampoo
Exterior soap and interior shampoo are must-haves. After all, you would never clean yourself with just water when taking a shower, so why would you only rinse your car or wipe the upholstery? You're better off purchasing high-quality exterior soap and interior shampoo to make your vehicle spotless. Importantly, do not use regular detergent when washing your car. While dishwashing soap is great for dishes, it does not have the strength and ingredients to both clean and protect your exterior as car soap. Car soaps have special formulas designed to protect paint finishes while lubricating the exterior surface. You can find a good quality car soap that matches your budget and needs, whether it's general use, wash and wax, or strip. Relatedly, use the same knowledge with interior shampoos. Do not use any general upholstery shampoo for your vehicle, as this may cause further stains. Instead, find an interior shampoo that fits your cloth, leather, or vinyl upholstery.
Mitts or Sponge
Obviously, your hands cannot effectively clean your car by themselves. Take precautions and use car cleaning mitts or sponges. Either one gets deep into your exterior without buffing the paint or primer. While a sponge is the minimum utility to do so, car cleaning mitts are designed to effectively clean the car without damaging the exterior. Made from microfiber cloth, they're safe on the car's surface. Better yet, high-quality car cleaning mitts are good for multiple uses, so you get your money's worth.
Microfiber Towels
Similarly, microfiber cloths are great for drying the interior and exterior without leaving minor scratches. Almost like drying a phone screen or pair of eyeglasses, traditional facial tissue or paper towels may leave minor scratches on your car's surface. Therefore, do yourself a favor and purchase a pack of multicolored microfiber cloths. They're affordable, convenient, and can be cleaned in a conventional household washer and dryer. Buying a pack allows you to use more than one at a time. Choose two different colors for your interior and exterior respectively to avoid confusion. These cloths cover a great surface area without costing much money.
Vacuum
Although you can find an auto vacuum at any major gas station, it doesn't hurt to add it to the list of best car care products. Auto vacuums come in many different shapes and sizes to fit your budget and lifestyle. Make sure to get the carpet, under any floor mats, liners, or crevices, and the trunk. When shopping for the right car vacuum, consider corded or cordless, voltage, weight, canister size, battery life, and suction power. The size of your vehicle helps dictate the type of vacuum you need. If you drive a smaller vehicle, opt for a smaller, portable vacuum. Pickup trucks or larger SUVs may require something larger and more durable to handle all the dirt and debris in the cabs and beds. Nevertheless, a car vacuum is a valuable tool for maintaining a spotless interior.
Pressure Washer and Foam Cannon
Pressure washers and foam cannons come in handy to make the cleanup easier. They give your car or truck an effective wash and coating without using much energy. Look for a power washer with a variety of spray tips. That gives you more options for washing and coating if you're using a foam cannon attachment. Additionally, power, weight, cord length, and warranty are a few other important considerations. Whichever type of power washer and foam cannon you choose, it will provide greater flexibility and convenience to the wash. While foam cannons aren't necessary, they do cover the entire exterior without using much power. Pay attention to the nozzle adjustment to ensure it provides sufficient surface coverage without any drips or leakage. Conveniently, once you've power washed, sprayed, and rinsed the car, all you need to do is wipe it with a microfiber cloth.
Wheel and Tire Cleaner
Last but not least, take care of your wheels and tires. Considering how these are two areas of the vehicle that see some of the most dirt and road debris, why would you neglect them? Fortunately, that's also where wheel and tire cleaners come into play. They're simple to use; just spray the wheels and tires with their respective cleaners and rinse off. You may need to physically wipe down any leftover dirt, but that's easy with a scrubbing mitt or microfiber cloth. Look for the right cleaner that won't damage your wheel's finish, like chrome, alloy, clear-coated, or aluminum.
Another car detailing product that comes in handy is touch up paint. At TouchUpDirect, we specialize in various touch up paints and their applicators for all types of vehicles. If you're looking for something specific, like Ford Focus touch up paint, we have it. Otherwise use our online database and plug in your make, model, and year to find your respective paint code and desired applicator. Call us with any questions or concerns and we'll help you find the right paint and applicator for your vehicle.